News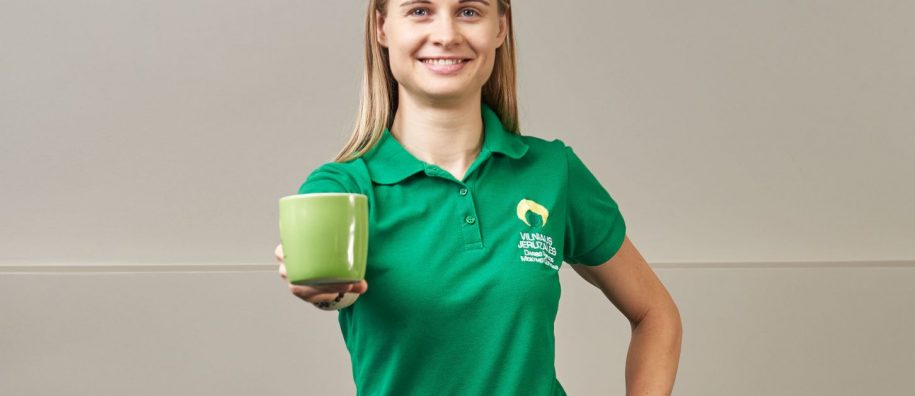 2 February, 2021
Alum Evelina: "If You Can Dream It, You Can Do It"
Faculty of Public Governance and Business
Alumni
Graduates each year embark on the search for the right studies path for their future. After graduation, begins the search for the dream job. Students admit that you have to do your homework ahead of time. Every step should be well thought out. So says Mykolas Romeris University (MRU) alumna Evelina Aukštikalnytė, who put in much effort to find her path in life and a job she liked.
She advises students looking for work not to give up, especially if at first you are unsuccessful. Also, she notes - it's important to believe in yourself and stay confident.
Evelina, how did you embark on your academic path?
Well, first I need to tell you that I completed my Bachelor's Degree in a totally different area - engineering (I studied Building Energy at VGTU). While still a Bachelor's Degree student I figured out this was not for me. Despite this, I  managed to complete studies and with excellent grades. I always thought that if you do something, you should do your best. Otherwise, what's the point?
After Bachelor's Degree studies, I decided to give this area a try. I worked for several years in this field. At the same time I was also interested in totally different subjects: personal development, coaching, human resource management, psychology of peoples. Finally, I decided to change my area and was admitted to study at MRU. I choose the Leadership and Change Management studies programme studies programme. Although I had high hopes for these studies, I really didn't expect it to be SO interesting. Immediately I realised I was where I needed to be. I really learned a lot about leadership and human resources, as well as project management, communication and more.
What do you think, is the right studies choice the key to a successful future career? 
I myself experienced what it's like to study something that's close to your heart. Now I think that to study that which you do not like is a sort of luxury, because the price of this is our precious time. However, when you study subjects that you like - that is an investment. So that is why I say that yes, it's true - the proper studies choice is the key to a successful career!
And, how is your career developing? 
My first jobs were engineering jobs. Only before studies at MRU did I start working as a project manager at the Vilnius Jeruzalės Job Training Centre. After the first studies semester I was offered to take the position of Head of Personnel. That is where I am working now. In the first studies semester I got a lot of useful information and began to share it with my colleagues at work. I began to discuss my idea with my unit head. I was noticed. That is why I was offered the position of Head of Personnel. The knowledge and competencies that I gained from studies I am able to apply daily on the job. I am very grateful to  my lecturers for sharing various for tools, advice and further learning material.
 Much determination and effort is needed to change your job area. However, I encourage everyone to search for a job that is close to one's heart and to search for what you really want. As Walt Disney said, "If you can dream it, you can do it."
What would you advise future students when selecting a studies area and looking for that dream job?
I think that a common mistake that many graduates or students make - when selecting studies, is not listening to yourself. First of all, I would advise not to listen to parents, friends, relatives and others for advice about what to study and where so that you would be successful. You will be successful only when you are studying what you truly want. Secondly, if you don't know what you want (just as I didn't know before beginning Bachelor's Degree studies) don't lose hope. There are various tools and methods to figure that out.
You graduated at the top of your class with a Leader's diploma. You participate in University activities and are active in mentoring. Why is that important to you?
Mentoring is important to me because I believe that you have to share your knowledge and experience with others. It's terrible and simply selfish to know something, but not say anything that would help another. I would like for there to be more cooperation in Lithuania and more support of each other. That is why I am trying to contribute to that.