News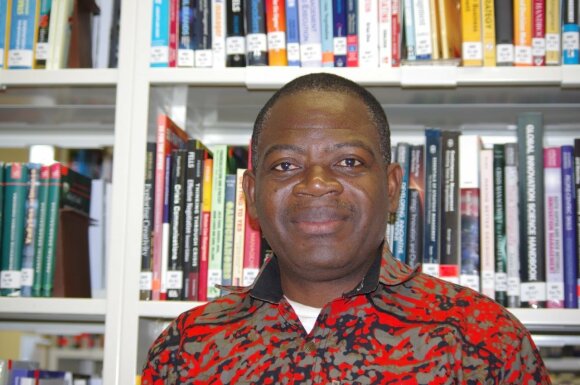 26 November, 2019
Univ. of Ghana Prof. Lectured on Political Leadership in Africa
University
Faculty of Public Governance and Business
Nov. 27th, 2019, University of Ghana's Institute of African Studies' History and Politics section researcher and Lecturer Dr. Samuel Ntewusu presented a lecture on "Traditional Political Leadership and Development in Africa."
MRU hosted the University of Ghana lecturer who was visiting under the auspices of the Erasmus+KA107 (ICM) programme.
His areas of research include urban transport, transport history, historical methodology, chieftaincy and development, mining and the sex industry, rituals and ritual spaces, social transformations and colonialism in Ghana and trade networks.
Dr. Ntewusu also compared the EU political system with the African Union (AU) political system in a lecture on Nov. 26th and Nov. 29th.
Dr. Ntewusu holds a PhD in History from the University of Leiden, The Netherlands, and an Mphil in African Studies from the University of Ghana.
Since August 2011, Dr. Ntewusu has worked as a research fellow at the Institute of African Studies, University of Ghana. He teaches Chieftaincy and Development in Africa (undergraduate course), and in collaboration with other lecturers, handles the following post-graduate courses: The Slave Trade and Africa, African Historiography and Methodology, Colonial Rule and African Responses and Pan Africanism.
He has supervised a number of graduate students in their research projects/theses both within and outside of Ghana.