News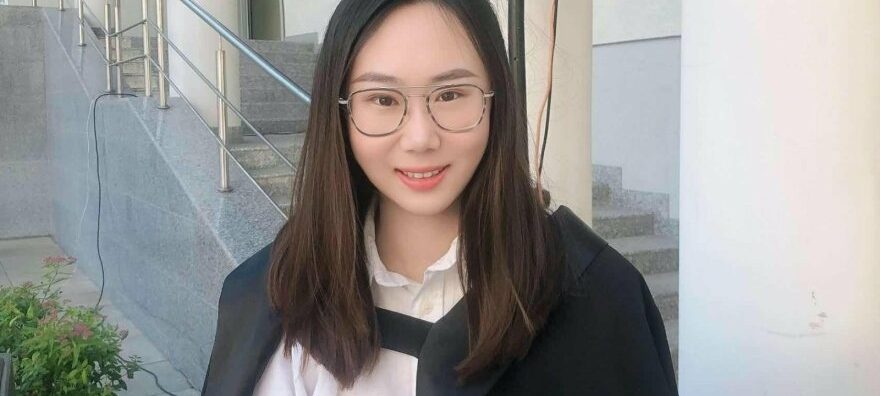 7 July, 2020
MRU Bilingual Grad from China Yi: Lithuanian was Difficult to Learn
Community
Alumni
Fluent in Lithuanian, Mykolas Romeris University Bachelor's Degree graduate Yi Zhang from China says it was difficult to learn the Lithuanian language, but now she can work as a translator and guide. It helped that she attended Lithuanian gymnasiums and schools. In June she was awarded her Bachelor's diploma after completing studies at MRU in a Lithuanian Tourism Management programme.
Vilnius resident Zhang, 23, from China was forced to abandon plans to visit her mother in China this summer due to the coronavirus pandemic. The Chinese guide, who is fluent in Lithuanian, said she would vacation in Lithuania. She came to Vilnius at the age of 15 with her parents. In the interview she discusses her adjustment to Vilnius, the difficulty of learning Lithuanian and her work as a guide with Chinese tourists visiting Vilnius.
- When was the last time you were in China?
- I go every summer to spend my vacation there because my mother lives in China. In the beginning, when I came to Lithuania 7 years ago, I wanted to return immediately to China. The lifestyle, food and differences between Lithuania and China were too great. This summer, I will remain here in Lithuania because of the coronavirus.
- How did you come to Lithuania?
- I came with my parents when I was 15 years old. My father has a business here. I started going to Lithuanian schools. I did not understand Lithuanian in the beginning and could not talk to others. The adjustment was really difficult. I was the only Chinese pupil in my high school in Vilnius. I felt lonely as a pupil in this school and I would spend the entire academic year waiting for summer so I could go to China and visit my friends.
- After studies time you have been working as a guide the last 2 years for Chinese tourists visiting Lithuania. What do they think of Vilnius and the city?
- Last summer there were so many tourists from China. Chinese tourists really love the blue sky and the clean air in Vilnius. Also, they enjoy the green forests and they say Lithuania is a very beautiful country. So many Lithuanians are tall and good-looking in the opinion of Chinese. You are also known for basketball. Many Chinese know that your country is famous for basketball and its players. However, I must say that Lithuania is not very well known in China. Almost everyone knows about Italy and Germany, but there is much less information about Lithuania in China. However, many of the tourists that come are interested in prices of the apartments and houses in Lithuania. They are also interested in migration possibilities and how to establish a business in Lithuania.
- What are the differences between Lithuania and China that you have noticed during your time here?
- When you bring flowers as a gift, you must make sure that they are of an even number. We buy flowers only in even number bouquets – 2, 6, 8. Four is a bad number and when pronounced in Chinese, it sounds like death, so we never bring 4 flowers in a flower bouquet.
- We are speaking in Lithuanian. You are fluent in it and often work as a translator. You recently completed studies in Tourism and Management with other Lithuanian students at MRU in a Lithuanian programme. Was it difficult for you to learn Lithuanian?
- It was very, very difficult to learn Lithuanian. Your grammar is complex and hard to learn. It is still difficult for me to write in Lithuanian, but I manage. The problem is that there is no Lithuanian-Chinese dictionary, so I have to use a Chinese-English dictionary for studies of your language. That was also difficult and it made it more complicated to study Lithuanian.
- Do you enjoy Lithuanian cuisine?
- Yes, I really like Lithuanian food especially the pink soup – šaltibarščiai, the kibinai in Trakai and the chicken Kiev and crepes with cottage cheese. Also, the fried bread with garlic – kepta duona is delicious and it pairs well with Lithuanian beer. I don't really like cepelinai, but the rest of Lithuanian food is very good.
- So, how do you see yourself in the future? Will you stay in Lithuania?
- Yes, I plan to stay in Lithuania. My father lives here and so does my 12-year-old sister. I speak to her in Lithuanian. I have grown accustomed to life here. It used to be that I would wait for summer to come so I could go back to China. Not anymore. Now I like to quietly sit with my friends in a bar, or cafe in Vilnius street and talk. It's a great place to meet friends and just hang out.
(This article is adapted from an online version that appeared July 6th, 2020 in the news portal DELFI EN).