News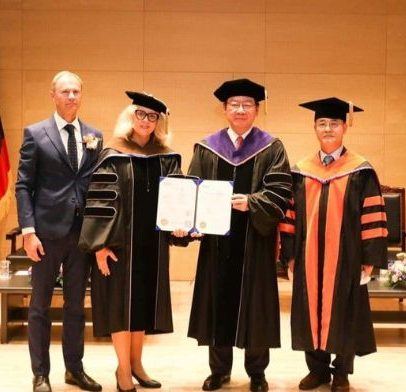 6 September, 2022
MRU Rector Prof. Žalėnienė Awarded Dongseo University Honorary Doctorate
Law School
University
Public Security Academy
Faculty of Public Governance and Business
Faculty of Human and Social Studies
Events
Partnership
King Sejong Institute
Rector
Sept. 5th, 2022, Mykolas Romeris University (MRU) Rector Prof. Inga Žalėnienė was awarded an Honorary Doctorate from South Korea's Dongseo University (DSU).
The DSU Doctor Honoris Causa honorary degree was awarded to Rector Prof. Žalėnienė for her great contributions to university cooperation, the successful implementation of dual degree diploma studies at MRU and Dongseo University, the activities of the King Sejong Institute Vilnius (KSI), and the close exchanges of students and lecturers between the two institutions.
"This evaluation reflects the close and meaningful cooperation of our universities for more than two decades," said MRU Rector Prof. Žalėnienė during the ceremony where she was awarded the title of Honorary Doctor. According to the Rector, the partnership with Dongseo University, which is based on a culture of innovation, reflecting common values and oriented towards the future - characteristics of DSU, helped the academic community of Mykolas Romero to grow as well. Lithuania's Embassy in the Republic of South Korea Deputy Head of Mission  Counsellor Vilijus Samuila also participated in the ceremony where Rector Žalėnienė was awarded an honorary doctorate.
The MRU and Dongseo University double diploma Bachelor's Degree studies programme is offered this year for the seventh time. Future Bachelor's Degree students study in the joint programme, "Game Development and Digital Animation." Future Master's Degree students study in the double diploma programme, "Informatics and Visual Contents." Korean language and culture studies are also integrated into other MRU study programmes. The King Sejong Institute in Vilnius was the first such Institute established in the Baltic States in 2013. The KSI Vilnius was recognized for the second time as one of the best in the Europe, Middle East and Africa region.
Located in Busan, South Korea, Dongseo University is one of the most significant higher education institutions in the region, closely cooperating with more than 230 foreign universities and industrial partners. About 12,000 students from South Korea and 69 foreign countries study at the University. There are 350 lecturers employed at DSU. Providing world-class education and practical skills necessary for professional activity, DSU is characterized by innovative and promising studies, studies programmes and research focused on the most pressing issues of the day. In terms of graduate employment, DSU leads the region among universities of similar size.
Dongseo University President Dr. Jekuk Chang emphasized that MRU is an important partner of Dongseo University  and that the close partnership has enhanced both universities.
MRU Rector Žalėnienė, invite by Dongseo University, participated in events marking the 30th anniversary of Dongseo University. She also attended the international conference, "Wisdom in the Post-Human Era."