News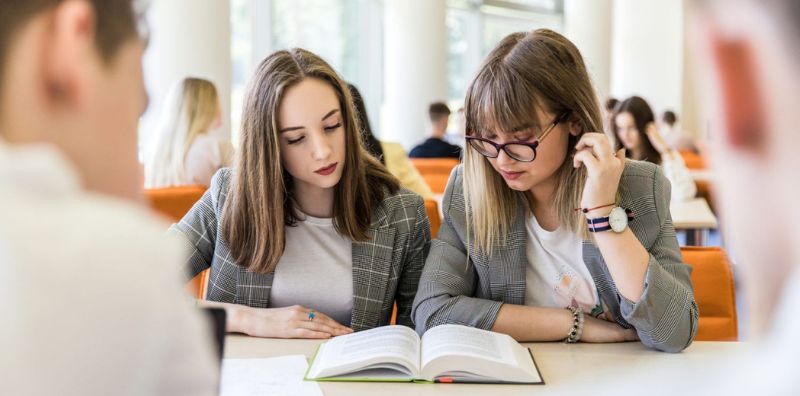 26 June, 2022
Western Union Representatives on Career Opportunities for Financial Management Professionals
University
Faculty of Public Governance and Business
MRUen
Financial management skills are important not only in personal life, but also for market players, as demonstrated by the past pandemic and the ongoing war in Ukraine. It is important for everyone to know the competencies of financial management for anyone who wants to work in a national or foreign public administration organization, business enterprise, financial institution, investment company or start or develop their own business. We are discussing the importance of financial management competencies with the representatives of the international money transfer company, "Western Union," Egle Kinče, Head of the Accounting Services Department, and Lina Rapkevičiūte, one of the Finance Department heads. 
-How are labor market trends changing in the field of financial management and accounting? 
Eglė Kinčė: The specialty of accounting and bookkeeping will definitely not disappear – it is a critical function for business. True, the content of this field and the competencies required for the job are changing along with the trends modernizing the business. Accounting specialists are increasingly working with big data, implementing automation solutions, and using process optimization knowledge. There is a growing need to deepen analytical thinking skills. Effective teamwork and communication remain connecting elements, and their importance will increase, despite the preconceptions that these skills may become unnecessary when automating processes. The accounting function in our company covers all major areas of accounting, so colleagues can apply their knowledge in a variety of projects. It also allows you to plan your career more flexibly - changes can be implemented within the company by deepening knowledge and working in different teams.
What changes do you notice in the field of finance?
Lina Rapkevičiūtė: Like all professions, the field of finance is also developing rapidly. If earlier the main work tool was an Excel spreadsheet, now programs like SQL allow you to implement many more ideas. When interviewing candidates and communicating with colleagues, I hear that they expect from their work both opportunities to learn and challenges that would prevent them from getting bored. Representatives of the younger generation also value speed and a dynamic environment. We aim for young talents to be able to grow together with the organization and to feel the constant support of their colleagues.
The financial services sector is rapidly progressing and growing. Can you find specialists and what value does Western Union offer them?
Eglė Kinčė: More than 100 accounting professionals from various fields work in my team. One of the advantages of working in a large, global company is access to the most innovative professional tools used in the global market, which allow you to do your job more efficiently and focus more on value-creating tasks and professional development. Of course, we face a "hot" talent market and we evaluate every potential candidate who wants to join "Western Union". Today, we talk a lot with teams and managers about how we can create the best conditions for each specialist to develop. It can be an offer to acquire a certificate of professional knowledge, an agreement that allows you to combine work and studies, an opportunity to contribute to interesting global projects. We have noticed that these benefits are appreciated by both experienced accounting professionals and colleagues who are starting this path.
What qualities do you need to pursue a career in financial management?
Lina Rapkevičiūtė: In order to successfully pursue a career in this field, it is extremely important to understand the business, the customer, and the specifics of the markets. I work in pricing, where behind the numbers are decisions that directly affect many customers. Together with my team, we try to understand what our customers' needs are, what cultural differences affect their decisions. It makes everyday calculations much more interesting. Among the most important qualities for a modern financial professional, I would single out the ability to successfully communicate with business partners and colleagues. For one, it may be enough to mention the essential numbers, while another may want to see the bigger picture, so it's important to get a feel for it. I notice that success is achieved by colleagues who are able to effectively solve the challenges that have arisen and are inclined to be interested in innovations themselves. Of course, there are guidelines and standards in our work, but each case is unique and requires creativity.
The Financial Management study program of Mykolas Romeris University is designed to prepare qualified financial management specialists who are able to analyze and professionally assess the financial situation of economic entities and make economically sound decisions. In addition, they know how to formulate financial development strategies, integrating aspects of financial and investment activities, applying economics, management, finance and law knowledge of scientific fields. Study in English and gain understanding of the international finance management. To take full advantage of this programme, you will be required to be proficient in English at B2 level.