News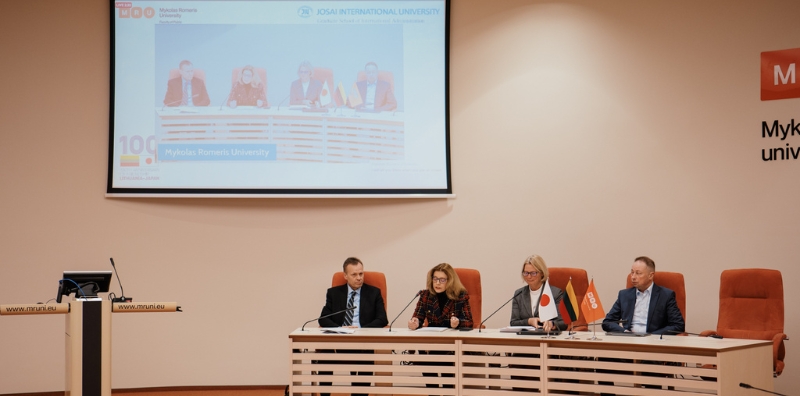 16 November, 2022
Focus on Future Sustainability & Entrepreneurship at MRU and Josai International University Seminar on Contemporary Japan
University
Faculty of Public Governance and Business
Events
Seminar
Nov. 16th, 2022, MRU's Faculty of Public Governance and Business together with the Graduate School of International Administration of Japan's Josai International University (JIU) organized a multi-disciplinary seminar on contemporary Japan. It commemorated a century of friendship between Lithuania and Japan.
Mykolas Romeris University (MRU) Rector Prof. Inga Žalėnienė and Josai International University President Dr. Kenji Sugibayashi opened the seminar. Japan's Ambassador in Lithuania Tetsu Ozaki delivered introductory remarks. The Director of Lithuania's Foreign Ministry's Latin America, Africa, Asia and the Pacific Department Audrius Brūzga addressed participants.
"For more than a decade we are in close cooperation with Japan's academic community. We take pride in the fact that MRU students are very interested in this country and want to learn Japanese and participate in exchange programmes," noted Rector Prof. Žalėnienė. She said that friendly and mutually beneficial bilateral ties with partners are valued – especially since they were not hindered by the pandemic.
During the seminar, Dr. Shigeru Matsumoto presented a lecture detailing Environmental, Social and Corporate Governance/Sustainable Development Goals (ESG/SDG) activities in Japan's business world. Dr. Matsumoto discussed the future direction of sustainability in business both from the perspective of company management and from capital markets. It is interesting to note that the influence of development of international logistics, especially ports, on the country's development and consequences for port development and management in Lithuania were also discussed.   
Another academic, Dr. Shinichi Ishii together with participants looked for answers to questions: how to attract foreign business or investment into the logistics sector? Can logistics development be effective, compared with economic zones regarding long-term economic development?
In addition there was discussion about Japanese tourism aspects and challenges, which Japanese confronts seeking to become an international tourism center. Dr. Takekuni Kurosawa presented some of the tourism industry's initiatives including hotels, public transport and local tourism community development. There was talk about how the pandemic influenced Japan's tourism industry.
MRU has signed 7 academic cooperation agreements with Japan's universities. Exchange agreements have been signed with Josai University and Kanagawa University. During 5 academic years, there were 15 students from MRU partner universities came to study in Lithuania. There were 4 students that studied at Japan's universities.
MRU Prof. Dr. Paulius Pakutinskas revealed Lithuania's and Japan's ties from the tradition, modernism and technological contexts.
We hope the insights provided by researchers about contemporary Japan's society and economics, business and tourism and regional development will contribute to closer cooperation between Josai International University and MRU and will be useful developing bilateral ties, said MRU Public Governance and Business Faculty Dean Dr. Darius Štitilis.
A video of the event is here.