News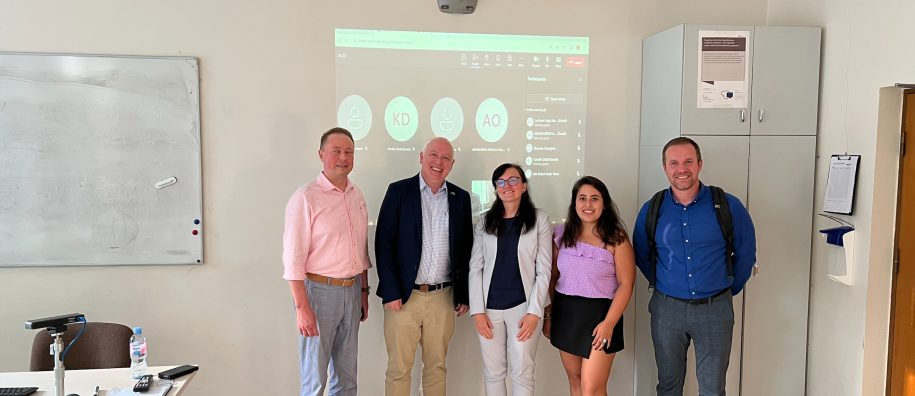 14 September, 2023
Australian cyber security expert Prof. M. Warren shares his unique professional experience and knowledge with MRU students
Faculty of Public Governance and Business
Lecture
First year students of the Master's degree in Cyber Security Management at the Faculty of Public Governance and Business of Mykolas Romeris University (MRU) listened to a lecture on "Cyber Security Fundamentals and Risk Management" delivered by Australian cyber security expert Prof. Matthew Warren, Director of the Cyber Security Centre at the Royal Melbourne Institute of Technology (RMIT).
"With the ever-changing cybersecurity landscape, collaboration has no borders and no boundaries. By pooling capabilities and minds - from Lithuania to Australia - we are strengthening our defense and building a stronger and safer digital world. By coming together and sharing knowledge, we are the strongest," Prof. Warren told the students.
The lecture "Cybersecurity Fundamentals and Risk Management" is an excellent opportunity for MRU students to broaden their knowledge in the field of cybersecurity, to understand the basic principles of cybersecurity and to understand effective risk management strategies.
During his visit to MRU, Prof. M. Warren also took part in the Australian-Lithuanian Cyber Security Research Network (ALCRN) discussions and an activity planning session, during which together with the Dean of the Faculty of Public Governance and Business, Prof. Dr. Darius Štitilis, and the Assoc. Prof. Dr. Marius Laurinitis  discussed the multifaceted challenges and opportunities in the field of cyber security.
According to Prof. Dr. D. Štitilis, with the constant emergence of cyber security threats, the number of specialists with complex skills and competences in this field is growing rapidly.
" There is a growing need for professionals with not only technological but also legal and managerial expertise. Today, the divide between law, management and technology is narrowing. So we are delighted that our students have the opportunity to learn from top international cyber security experts who share their latest knowledge and unique experiences. There is no doubt that Prof. Warren's lectures will enrich the students' experience and provide them with a multifaceted perspective on today's cybersecurity challenges," says Mr Stitilis.
In 2022, the Faculty of Public Governance and Business of Mykolas Romeris University, together with the RMIT Cybersecurity Research and Innovation Centre, established the Australia-Lithuania Cybersecurity Research Network and, by pooling their knowledge and scientific potential, they are conducting research on hybrid threats and assessing their impact on societies and institutions in Lithuania and/or Australia.