News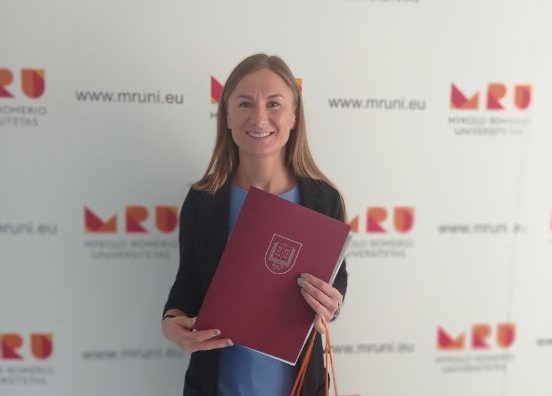 1 July, 2022
When Age Isn't an Obstacle: Olympian Virbalytė Graduates with Honours
University
Faculty of Public Governance and Business
Studies
Community
Alumni
Events
Graduation
Mykolas Romeris University (MRU) alum and Olympian Brigita Virbalytė (37) recently graduated at the top of her class with a Leader's diploma in Sports Industry Management.  
"The age factor was always an issue with me. It is 10 years already that I should be thinking about ending my sports career," said the professional race walker who competes internationally for Lithuania.
"When I received an offer to fulfill an old dream of mine, I thought stereotypes aren't going to stop me," said the multiple Lithuanian champion and record holder.
Fourteen years ago, the athlete completed her Bachelor's Degree in journalism and started working as a reporter for the Lithuanian media outlet LRT. She combines both of her careers to this day. Virbalytė's achievements and accomplishments do not end there. She takes care of two stray cats and two dogs. Five years ago in 2017, she established the National Association of Athletes with several like-minded colleagues. Then, at the behest of MRU Prof. Vilma Čingienė, she decided to pursue a long-held dream and study towards her Master's Degree.
Now Virbalytė has completed her studies and graduated with a special leadership diploma awarded to students graduating with honors. She agreed to share her path to "victory" and the challenges that had to be overcome in this interview.
-When did you decide to take up studies and enter MRU's Master's Degree programme?
That happened very unexpectedly, when we established the National Association of Athletes. I met MRU Prof. Vilma Čingienė who offered me to continue my studies, after she heard that I don't have a Master's Degree. There was only one day left to submit my application documents and I had to decide quickly. I knew that I would have to combine several career paths in my life, but I was prepared for that. Somewhere deep inside was my dream that I wanted to continue studies, so I agreed. I knew that lectures would only take place on Friday evenings and on weekends and that it would be for a 1 ½ year period. The last half year is dedicated to complete the final research paper. I was tempted to do this. I found another colleague, who agreed to study together in the programme. It was quite an adventure but now after two years, I already have my diploma.
Studies are a lot of work. You were already over 30 years old. How important is the age factor?
For more than 10 years I have been dealing with the age factor. First of all, in a sports career, where you had to withstand the pressure of society. I'm approaching my forties and I'm still a professional athlete and still thinking about reaching new heights. I'm still planning to participate in the Olympic Games. The age factor, which was also in sports, led me to ignore it in other areas as well.
Studies are an area where it is much easier for an older person, because you know what you want out of life. In addition, we can see clearly how today's contemporary woman is able to combine many careers. Once I was probably the only athlete who did this, but now you will not surprise anyone. I wasn't the oldest in my group. There were women and men, who were working, had families and needed a degree to move up the career ladder. One woman, I think had 3 or 4 children and also successfully completed her studies.  You have to avoid setting limits on yourself. If you really want to do something, like study, than you get up one day and simply submit your documents and get going.
Prof. Dr. Vilma Čingienė, who encouraged you to study, is well-known for being demanding. How did the research and thesis preparation process go?
I began my cooperation with the professor much earlier than I began studies. Together we established the National Association of Athletes. I can say that our relationship was close, when I was writing my Master's thesis. She is a demanding professor, but so am I. So it was great to work together. We both knew that we wanted to write a Master's thesis that would be topical to the country's sports sector, so that the subject would be relevant and new. We wanted to avoid a subject that had already been analyzed. The professor's help was needed on many levels. Her relationship with students is very close. It appears that she is truly interested in helping us all. We all know that sometimes studies can be overwhelming and you want to postpone or delay them. Prof.  Čingienė was caring, genuinely concerned about our progress. I was greatly encouraged by this and felt her support.
-What kind of job can you get after graduation with this degree?
In my opinion, the diploma should be considered as a necessary investment on a national scale: for work in sports federations, the Ministry of Education, Science and Sports, the newly-created National Sports Agency. There is a shortage of young, creative people. There are some people who have been working in sports federations for decades and most likely without any education in management. We know that a very big sports reform is in store in Lithuania and expected from July. New managers could really help because there is a shortage of them.
There were only 14 people in my Master's studies programme. Some left to work in a different region of Lithuania, others ended up in the Ministry or elsewhere. These studies are great for sports professionals  who come face to face with the problem of a dual career. We are aware that some professional athletes do not know what to after their sports career ends. This type of education helps to integrate and the experience gained during a professional sports career acquires a new value.
Is this programme only for athletes?
-Not necessarily, since it is easier for people from other fields to distance themselves. I am sometimes too affected by those sports sector problems to stay rational. My fellow students, who came from other fields, told me that they really enjoyed getting to know a new  field.