News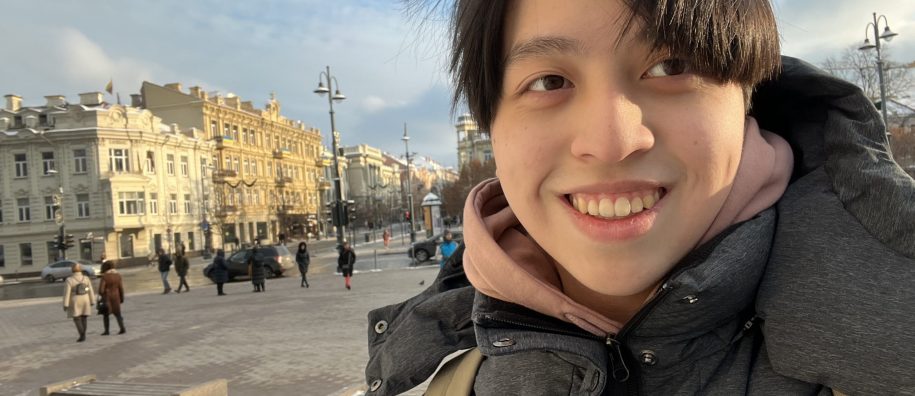 23 November, 2022
Taiwanese Student Recommends MRU for High-Quality Studies
University
Faculty of Public Governance and Business
Studies
International Students
MRUen
Barely a month in Vilnius, Taipei native Yu-Hshin Cheng from Taiwan says studies at Mykolas Romeris University (MRU) are the reason he came to Vilnius. A student in the Global Business and Modern Marketing Bachelor's Degree programme, he said he would recommend studies at MRU to fellow students back home.
The 19-year-old student said he decided to apply to study at MRU after reading an article on the Internet while in Taipei about the least popular countries for studies for Taiwanese students. Both Lithuania and Estonia were on the list. This piqued his interest. Then he found out that living and other expenses were cheaper in Lithuania than most other countries.
I decided to apply and was not mistaken in my choice, he added.
"The educational system is totally different here. I was totally shocked at first. The test is not the most important part of the grade. You must participate in discussions and make a presentation," he added.
He also decided to leave Taipei because of his dislike of Asian working conditions – stringent and requiring intense dedication from the employee coupled often with long work hours. In Lithuania, he noticed that employees work shorter hours and have more free time for hobbies, cultural activities.
Upon arrival this fall in Vilnius, Cheng said he encountered culture shock. "Everything is different here," he explained including the food, traditions and especially the prevalence of smokers.
He was surprised by the sheer number of smokers in Vilnius, especially those smoking electronic cigarettes, which are forbidden in Taiwan.
Another shocking fact was the small salaries of Lithuanians and the relatively high price of eating out in Vilnius. Universities in Taiwan offer low-cost meals to students at the university cafeteria.
In Taiwan it is popular to have a whole building on the university campus devoted to cafeterias and cafes with cheap prices – 4 Euros for lunch. "Every school has a buffet," he said. However, he noticed that in Lithuania even eating in the University's cafeteria on campus is expensive – about 5 Euros. Prices for lunch are similar to those in Vilnius city cafes and restaurants.
"What I don't understand is that the salaries here are not that high, but the price of food for eating out in restaurants is high. If you cook for yourself, it is much cheaper, he added. In Taiwan, the situation is different and it is cheaper to go out to eat rather than cook at home.
"My friends in Taiwan say they don't like to cook because it is expensive. Perhaps it is because they buy ingredients imported from abroad and this makes cooking at home expensive.
Other differences from his home town of Taipei include the laid-back attitude of Vilnius residents.
"No one seems to be in a hurry here. It's not that busy," he said.
What he misses is the subway in Taipei. A subway station is located only minutes from his home in Taipei enabling him to easily navigate his home town. A monthly transport pass costs about 43 Euros, he added. He says that buses in Vilnius are unreliable as they are often late. The subway in Taipei, on the other hand, runs to the minute so passengers always know when to expect the next train.
While in Vilnius, he hopes to learn some Lithuania. He said he is waiting for the moment when the University begins offering MRU international students Lithuanian language courses. "We need to learn the language because we will be here for a couple of years," said the ever-inquisitive student from Taiwan.