News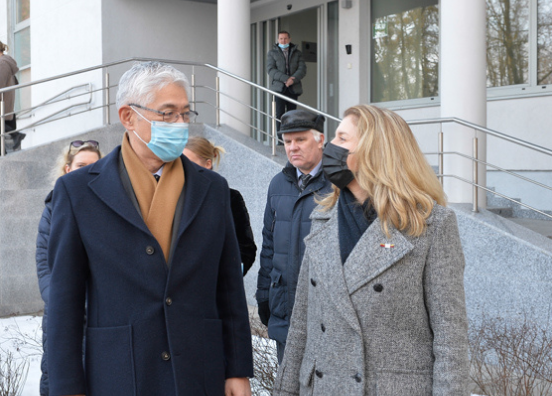 15 February, 2022
LT & Japan Marking 100 Years of Friendship: New MRU Plans for Cooperation
University
Faculty of Public Governance and Business
Faculty of Human and Social Studies
Studies
International Students
Community
Events
Conference
Meeting
Announcements
Feb. 15th, 2022, Mykolas Romeris University (MRU) Rector Prof. Inga Žalėnienė and Japan's Ambassador Ozaki Tetsu discussed how to further strengthen academic cooperation with partners and student exchanges. In addition, there was discussion about preparations to celebrate the centenary of friendship between two countries. MRU, together with the Embassy of Japan in Lithuania, plans to organize a competition for student anime (animation style with unique characters and environmental aesthetics) to mark the occasion.
"We have been working closely with the Japanese academic community for more than a decade," said MRU's Rector Žalėnienė.  "We are glad that MRU students are very interested in Japan and are eager to learn Japanese and participate in exchange programmes. We value friendly and mutually beneficial relationships with partners which continued, despite the pandemic. This year we are preparing to celebrate the centenary of Lithuanian-Japanese friendship in an original way. We hope that this will be another incentive for the youth of our countries to take advantage of all the opportunities available for cooperation," the Rector said.
MRU has signed 7 academic cooperation agreements with Japanese universities. Exchange agreements have also been signed with Josai University and the University of Kanagawa. During five years of studies, 15 students came to Lithuania from partner universities in Japan. There were 4 students that left for Japanese universities.
In 2013, the Asian Centre was established at MRU to implement programmes helping to acquaint with Japan and other countries in the Indo-Pacific region. The Center annually receives volunteers from Japan who teach free Japanese language courses to University students. They also participate in events that present the country's culture. The MRU Asian Centre, with the help of the Embassy of Japan in Vilnius, organizes exhibitions, musical performances, guest lectures delivered by renowned lecturers from Japan.
From 2017, MRU is implementing a Japan "Eurasia Foundation (from Asia)" financed project. Students are taught Asian culture and new media in lectures delivered within the context of the "Asian Community: Culture and New Media" lectures. The unique project is coordinated by Prof.  Gražina Čiuladienė  and is exceptional not only due to its content, but also in terms of the team of lecturers who come from Japan, the U.S., and European countries as well as Lithuania along with members of the diplomatic corps from Asian countries. Representatives from the Japanese Embassy have been presenting seminars for the last several years on Japanese culture and traditions.
Each year Japan's Josai University invites students from MRU to make presentations at the Central-European and Japan student conferences that take place in Tokyo. The 2022 Conference was devoted to the issue of climate change. Bachelor's Degree student Vlada Novickaja represented MRU having won a competition. She is a student in the Informatics and Digital Contents programme.
During the spring semester, lecturer-volunteer Haga Yoshiyuki from Japan is teaching Japanese to MRU students. He also instructs in the Japanese Kendo martial arts programme and has trained the Lithuanian Kendo team. Yoshiyuki has come to Lithuania for the 5th time. There are about 60 students and graduates that have been attending his Japanese language classes.