News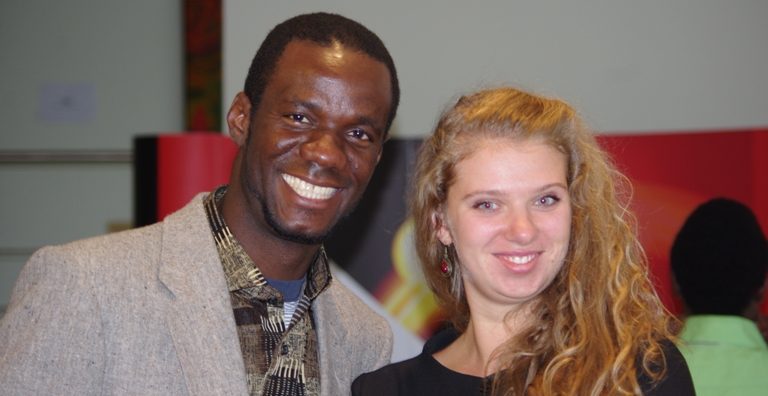 16 January, 2015
Student from Nigeria – Optimist who Smiles & Volunteers His Time
Studies
International Students
Community
Alumni
Jan. 16th, 2015, the online news website Bernardinai.lt published an interview with Mykolas Romeris University (MRU) 4th year Social Work student Samuel Sadiku from Nigeria, who volunteers, when not engrossed in studies.
He plays basketball and football with children from the Vilnius Police Club for Youth.
Cheerful with a sunny disposition, Samuel is ever smiling and says, half joking that in Nigeria, even when dying, people are smiling.
Samuel said that it wasn't hard to make friends in Lithuania.
Some foreigners maintain that Lithuanians don't smile and they are not very open. "I tell them, "Don't think that people walking down the street will smile without a reason. I don't believe that everyone's going to come up and shake my hand. Even if I were the richest guy in the world, I wouldn't be expecting that," Samuel said.
He said not many Lithuanians know about Nigeria and that there are more than 170-million inhabitants. Lithuanians are surprised to hear that, he said.
Before coming to MRU Samuel himself knew little about Lithuania, but said he had no preconceived notions about people or life here.
"I looked at it all as an adventure. I had no idea what kind of people lived in Lithuania, how they look, what their culture's like, but I wanted to experience it all," he said.
Samuel said that he has never become angry with anyone during his stay in Lithuania and not had any serious conflicts.
I was probably lucky, he said. Even the drunks on the trolleybus never attacked me with punches. They only asked from where I come and what I'm doing in Lithuania. Sometimes you strike up a conversation and they end up shaking my hand in the end, he explained.
Samuel comes from a large family and has 6 sisters and a brother. He said their life is unimaginable without Sunday church services.
The first Sunday of every month is a special day at some Christian churches, explained Samuel. That day - until 6 p.m. everyone fasts - no water, no food. "That's like food for the soul," he said. We wish one another a good month - in person and via Facebook, said the MRU student.
As for volunteering, he said in Nigeria no one wants to work for free.
"Volunteering is not popular, but we have the church, which stands in for those volunteer organizations. You can also do volunteer work there," he added.