News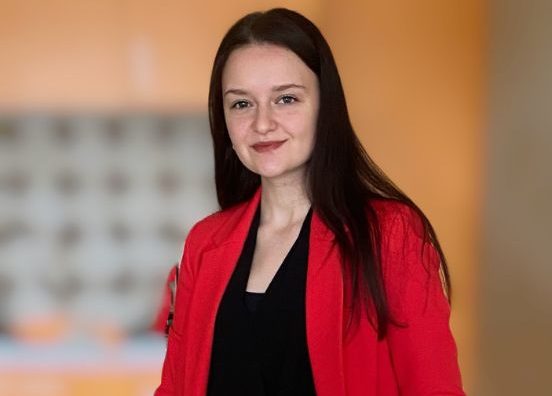 3 June, 2022
MRU Graduate: Political Science Studies Provide Foundation for a Successful Career
University
Faculty of Public Governance and Business
Community
Alumni
Can studies, be not only interesting but also prepare for a quality life, providing the basis for a successful career start? MRU alum Rugilė Smoliakaitė, a graduate of the Mykolas Romeris University (MRU) Bachelor's study programme in Public Policy and Management is now an assistant to a parliament member of the Seimas. She agreed to discuss her successful career and important achievements. She is continuing her studies in MRU's Master's programme in International Politics.
 In your opinion, do you think it is worth choosing to study political science not only because it is interesting, but also for a successful career?
In my opinion, the choice of political science is necessary not only because of the desire to understand political processes, but also because of what these studies can bring. By that I mean critical thinking, fast processing and absorption of information, solving of complex issues etc. This is why I believe that political studies provide an opportunity to have a successful career not only in politics but also in other fields.
What would you say to those who say that only IT professionals are needed and political science studies will not be studies for a quality life?
It doesn't matter whether you are an IT specialist, a policy expert or a chemist. Knowledge alone does not make one successful. This is just one of the steps that is needed to achieve a quality life. However, what we take from studies, if they are career-oriented, as my political science studies have been, and our own efforts, help provide the basis for a successful career.
After graduation how did you manage to find a job? What was your path that led you to be where you are today?
While still a student I knew that I wanted to work in the Seimas parliament. Seeking to reach my goal, I got an internship at the Seimas. During this time I worked hard and was not afraid of work and responsibilities. The result was recommendations which were priceless after graduation. After studies, during the summer I worked in another job. However, when I began to study in the International Politics Master's programme I understand that it is time to try to reach my goal and get a job in the Seimas. About two months after beginning my job search, I received an offer to send my resume to a Seimas parliament member who was looking for a member for his team. I sent out my resume and passed the stages of job interviews. I then received an offer to work in the Seimas as an assistant to a Seimas parliament member. It is rare, after Bachelor's studies, to get such a job offer if one is evaluated on the basis of competencies and professionalism and not party loyalty. Now every day is a special day and I am happy that what I learned in my Bachelor's Degree studies, I use daily on the job. At the same time I am delving deeper into the area of International Politics. I have the opportunity to apply this immediately in practice on the job. I believe that by working hard and truly applying yourself, all is possible. Studies at MRU gave me the opportunity to use my knowledge during the internship. The work I did during my internship paved the path for me to be where I am today and I am very happy as a result.
More info about Master's Degree studies in International Politics: (link).