News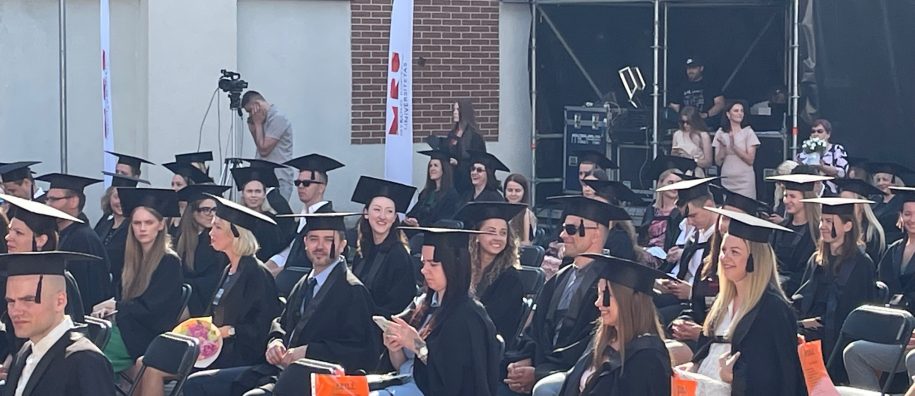 23 June, 2021
Graduation Day at Public Governance and Business Faculty June 22nd
Faculty of Public Governance and Business
Community
June 22nd, 2021, Mykolas Romeris University Rector Prof. Inga Žalėnienė presided over graduation ceremonies where 320 graduates of Bachelor's and Master's Degree programmes of the  Faculty of Public Governance and Business were awarded diplomas including 22 students from abroad. There were 9 students who graduated at the top of their class and they were awarded special Leader's diplomas.
Only those who had registered in advance could attend the live ceremony held outdoors in the inner courtyard of the University. Others, including friends and close relatives, could view the ceremony live through a broadcast from MRU.
University Rector Prof. Inga Žalėnienė congratulated graduates telling them to dream, have ambitious goals and to not be afraid.
Faculty Dean Prof. Darius Štitilis told graduates to remain curious and to have an inquiring mind, to be leaders and invited them to remain active members of MRU's community using all the possibilities that are available at the University.
"Take a moment to celebrate your achievements...." the Dean told graduates encouraging them to find their own path in life and to find activities that are interesting to them.
MBA programme graduate Tadas Stanaitis, who is an adviser to the U.S. Defense Attache in the U.S. Embassy in Vilnius, fired off a motivating commencement address.
He told his fellow students that although there were many unexpected challenges during the last year, it was all an investment not only to oneself, but to also a better and richer society. Stanaitis said that the COVID-19 pandemic produced many challenges forcing studies online remotely from home or even from cars and other non-traditional places of study. On behalf of all graduates, he thanked MRU lecturers especially Assoc. Prof. Lidija Kraujalienė and Prof. Ray Smith from the U.S.
Students singled out for their extraordinary achievements and top grades during studies included Public Policy and Management programme students Karolina Norkevičienė and Rugilė Smoliakaitė, Master's Degree programme graduate Jevgenija Krikščiūnė,  Public Administration students from Ukraine: Basarhina Olesia, Protsenko Ihor, Tatarinov Roman,  MBA students: Donatas Indrašius, Solveiga Lenktaitienė, and Viktoras Pėčia.