News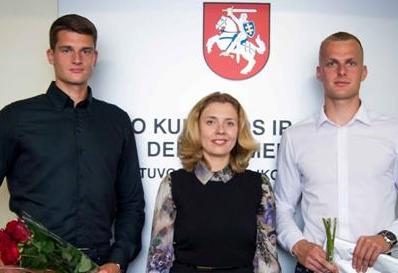 20 July, 2015
Awards Presented to Champion Rowers Ritteris & Maščinskas
Community
Alumni
Sports
July 15th, 2015, Mykolas Romeris University (MRU) Vice-Rector for Research & International Relations Prof. Inga Žalėnienė and Lithuania's Physical Education and Sports Dept. (PESD) Director Edis Urbanavičius congratulated MRU's champion rowers Rolandas Maščinskas and Saulius Ritteris.
The rowers received awards during a ceremony held at the Physical Education and Sports Department's headquarters in Vilnius after they won gold medals July 7th at South Korea's summer World University Games.
Currently Lithuania is 13th in the world and 6th in Europe in the ratings based on athletes' achievements.
Both Ritteris and Maščinskas were presented awards and recognized for their gold medal win in South Korea.