News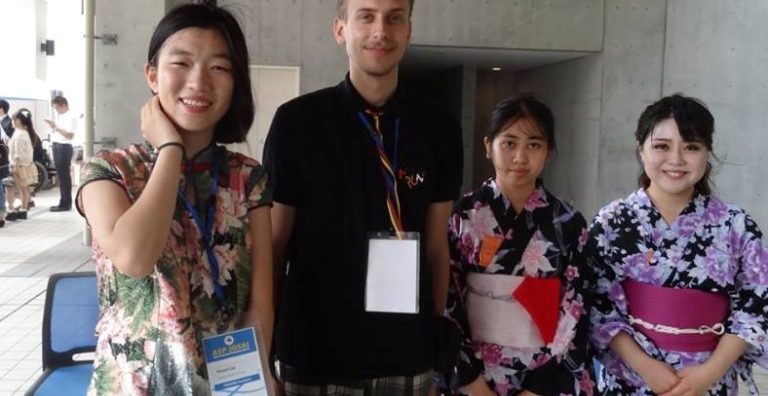 11 September, 2015
Back from Japan, MRU Student Recommends Everyone Pay a Visit
Law School
Studies
Community
Alumni
MRU Master's Degree Criminal Law and Criminology student Dovydas Slabys, an aficionado of Japan, fulfilled his childhood dream this summer.
He spent a month at the Asia Summer School held at the Josai International University in Japan.
"I read books about Japan, Japanese language for 6 - 7 years," he said. I've been studying Japanese language independently – watching films, videos, music clips," Slabys said.
He was one of three MRU students to attend the month-long summer school in Japan. The other two MRU students were: Shierly Angelina Sungkono and Julija Švec.
All the other Summer School students were from Asian countries: China, Malaysia, Indonesia, Thailand and other countries, he said.
Classes were held in English. He took subjects such as Economics, Japanese Constitutional Law, International Law, East Asian Philosophy, Policy and Management and Administrative Law.
It was also a great opportunity to meet students from other Asian countries. Slabys made friends with students from South Korea, Bangladesh, China, Indonesia, Malaysia, the Philippines and of course, Japan.
He is encouraging his new Asian friends to visit him at MRU.
Coming to Japan for the first time, a Westerner can find it a bit shocking.
"Asia is a totally different continent," he said. But, after a week he felt in his element.
As for Japan, it is a clean and safe country. You don't have to worry about having your luggage or belongings stolen.
"You can leave your suitcase in the street and you will find it there," he said. And, if you've lost something, all you do is ask the Japanese to help. They will find your belongings.
It's a country of contrasts, with deep traditions and etiquette subtleties and great architecture, notes Slabys.
Everyone should go to Japan and see for themselves, he said.
Slabys is excited about his Law studies at MRU where he is delving into Criminal Law subjects.
"Our university provides many opportunities. All you have to do is to take in all that is offered, he said.
After graduation, he said he plans to pursue doctoral studies. He would also like to pursue work in the law profession as a lawyer, advocate, prosecutor, work in the Police Department or perhaps in the courts.
But, in the midst of it all, he plans to continue his interest in Japan and to study Japanese language and its culture.