News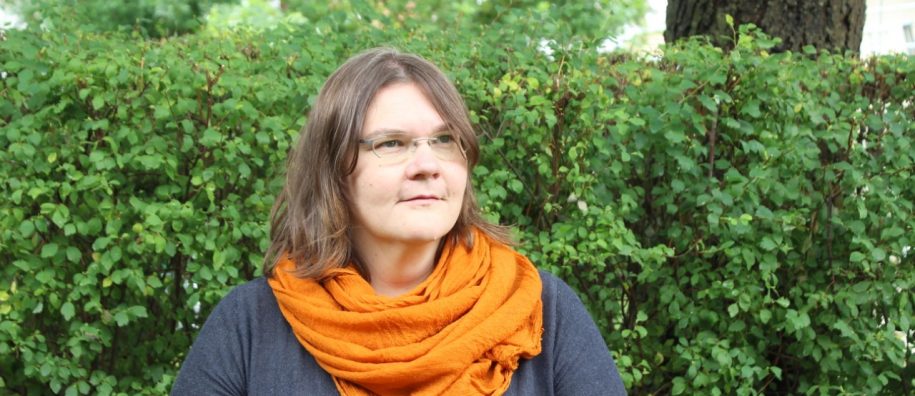 7 May, 2021
MRU Graduate: Volunteering Helped Me Grow as a Social Worker & Individual
Faculty of Human and Social Studies
Alumni
Mykolas Romeris University (MRU) graduate Daiva Ivanauskaitė graduated with a Master's Degree in Social Work. She landed a job as a social worker and agreed to share some of her first career steps. She discovered her vocation through volunteering.
Ivanauskaitė, who successfully completed a Master's Degree in Social Work, is currently working as a social worker at the Šviesa Day Centre. She is guided in her daily work by values of respect, listening to the needs of others, team work, the ability to learn from others mistakes and humour. She shares some of her experiences.
I first experienced social work through hands-on experience and only later supplemented it with studies at MRU, said Ivanauskaitė.
"When working with people with intellectual disabilities, it is important to build a relationship based on trust, to be able to recognize, not to judge the needs of a person with disabilities. Also, it's necessary to seek to promote self-confidence in individuals. It is important to never forget that a person with an intellectual disability can communicate their needs in different ways. We just need to come together and help everyone achieve their goal," she said.
Volunteering as a Driver of Growth Professionally and Personally
"I discovered social work through volunteering in France. I was a volunteer at the "Arka" (L'Arche) community, an international federation of communities in over 37 countries for people with developmental disabilities. I saw up close how grown adults with intellectual disabilities lived in this community with volunteers and social work professionals. At that time, countless questions arose. I discovered the answers with the help of employees with many years of experience. They taught first by example, and later by advice and revealing their working methods. By volunteering and later working in the Arka community in France, I grew as a person and as a social worker also. Here, my ability to build relationships with people with intellectual disabilities, with myself, with co-workers and the organization, and the ability to work in a team, despite cultural, ethnic and other differences, was developed. It can be said that I experienced social work first through experience and only later I supplemented it with studies, "said Ivanauskaitė, a graduate of MRU.
She said Social Work Master's Degree studies at MRU were useful because she was able to supplement her experience with studies. In her Master's thesis, she conducted research on the impact and peculiarities of the application of the European Social Services Quality Assurance System (EQUASS) in day care centers providing services to adults with intellectual disabilities. This study revealed that in our country increasingly there is still a need to reduce negative prejudices, increase staff awareness and understanding of service quality standards. Also, the preparation of documentation and the increased workload cannot be assessed only critically, as it creates many positive changes, creates conditions for improvement, reveals and highlights the meaning of the performed activities. Thus, one of the most common obstacles to changes in the organization of social services is employee resistance. Negative attitude of employees, unwillingness to change, lack of motivation were also noticed in other initiatives to improve the quality of social services in Lithuania. However, during activities initiated during the implementation of EQUASS, the number of employees' contacts, meetings, contacts with managers has increased. It creates mutual trust, and similar values ​​uniting the organisation's community. It is this that allows employees to be satisfied with their work.
Institutional Social Services Can Become More Empowering for People with Disabilities
Not only the research conducted by Ivanauskaitė, but also the practical implementation of the quality standard in her work, allows to believe that social services provided in institutions can become more empowering for people with disabilities, - and less paternalistic, which allows focusing on employee empowerment.
Innovation and the improvement of service quality enable service providers to develop their own operational procedures, discuss and continuously improve. Social workers are no longer passive observers and executors. They are given important responsibilities and freedom of initiative. The aim is for all social workers to feel that they are an important part of ensuring the quality of services in the performance of their daily functions.
For those planning to choose the profession of a social worker, MRU graduate Ivanauskaitė provides encouragement. It's a profession in which you will experience the constant value of the relationship you create with yourself and others, and the constant growth of yourself as a person and a professional. The purpose of social work is to help service users find solutions when difficulties arise. To help another, we must first constantly learn to build a relationship with ourselves as a person, with a colleague, an organization, and the environment. It is also important to reflect and name the relationships being developed over time. Finally, also to help the recipient reflect and build a relationship with themselves, bystanders, and the environment. Such an attitude of a social worker would ensure the quality of provided social services.