News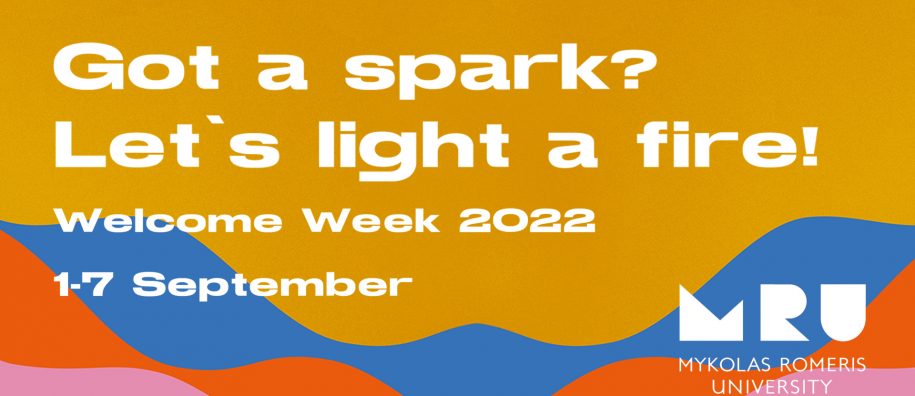 26 August, 2022
MRU Freshmen Invited to Welcome Week Events: "Light a Fire & Turn up The Heat!" Sept. 1st-7th
University
Faculty of Public Governance and Business
Faculty of Human and Social Studies
Studies
Community
Events
Meeting
Announcements
MRUen
Sept. 1st-7th, 2022, Mykolas Romeris University (MRU) freshmen invited to Welcome Week events on campus, "Got a Spark? Let's Light A Fire & Turn Up the Heat!" The Introductory Week events on campus will help freshmen become more closely acquainted with the campus, meet Faculty lecturers and find out about extracurricular and other opportunities available on MRU's campus. As students begin their academic journey, it will be a chance to meet classmates and make friends on this new academic journey. The Welcome Week events will take place at MRU Vilnius (Ateities St. 20) and in Kaunas at the MRU Public Security Academy.

Introductory Week events will take place at the university live and in person (contact activities). Students, who were unable to arrive in time due to travel or visa issues will have a possibility to join online, links are provided next to the activities in the programme.
A Festive Concert, Flash Mob & "Morning Vitamin" Doses on Tap
MRU is continuing its tradition to begin the new academic year with a marathon of exciting events. On September 1st, the Day of Knowledge, students will have the opportunity in MRU's inner courtyard to attend the concert of singer Gabrielė Vilkickytė. There will be refreshments served and a great opportunity to meet your new colleagues and classmates. On September 1st. students will also receive MRU T-shirts and freshmen are invited to wear them at events scheduled on Sept. 2nd and September 5th.
On other days, students will be served up "Morning Vitamins," meet with MRU Rector Prof. Inga Žalėnienė, take part in a Flash Mob, and "K-Pop Rhythm" event along with a "Life Design" meeting, where freshmen will find out how to plan your career during times of change as well as make your dreams come true.
More activities await students on other days. Various auditoriums will be open and freshmen can register for activities that they want to attend: karate, various sports including wrestling, basketball, volleyball, Zumba, yoga and even traditional folk dancing.
Time for Self-Expression, Mentoring Info & Navigating the Library
During Welcome Week, MRU freshmen will have the opportunity to find out more about the MRU Student Representative Body MRUSA; the Well-Being Centre; and Erasmus exchange, training and mentorship. Students will learn how to use the University "Moodle" system and find out all that MRU's Library offers. Also freshmen will find out about sustainable development and why it's important in the University's daily life. Useful advice will be offered on how to manage stress and there will be a presentation on the Startup Hub. Join us!
The Welcome Week also includes an excursion around historical Vilnius Old Town so freshmen can get better acquainted with the city and to see the sites.