News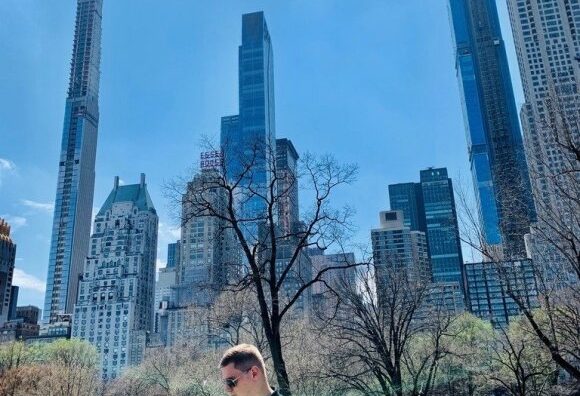 18 April, 2021
Licensed Co-Owner of Starbucks Cafe in U.S. is Studying Finance Management Remotely @ MRU
Faculty of Public Governance and Business
Studies
Community
Mykolas Romeris University (MRU) Master's Degree student Vygandas Paul Mastavičius combines studies with work in the U.S. as a licensed co-owner of a Starbucks Cafe. He says in order to work and study at the same time, you need to maintain a balance, and have a clear agenda so that everything is done on the same day," said the MRU student. He started working when he was 18 and studied continuously from that time. Now, a business partner in a Starbucks Cafe venture, he discussed the differences in business cultures and his personal experiences working abroad.
Mastavičius departed for the U.S. in 2019, after he got a job offer to work in a commercial bank in Texas. "I left for Houston in the middle of March, when I had a job offer," he said. Although from the initial idea to implementation took about 4 months. My first job was at "Bank of America" related to internal bank initiatives and project management and implementation."
Later he worked at "JP Morgan Chase" bank, where he had a managerial position. Of course, in the beginning not everything was smooth and easy.  He also experienced professional disappointment.
"In one large international company I didn't meet the preliminary requirements during the training period and after a month and a half I was asked to leave. But mistakes make you stronger and force you to improve," he added. 
Currently Mastavičius is developing his own business and is a licensed co-owner of a Starbucks cafe. "My entry into the "Starbucks" process was rather complicated and not easy. Because Starbucks works on a franchise principle, I needed personal and investor funds to open the cafe. I wouldn't say it was easy, but perhaps as in every business, it is important to have capital and a strategy, which would be similar to the company in which one invests," he noted.
Americans Work A lot and Few Have Heard of Lithuania
He emphasized that Americans tend to work hard and rest for shorter periods.
"According to 2019 data, Lithuanians worked an average of 1,500 hours a year, and Americans - about 1,800 hours. Meanwhile, U.S. workers, who receive about 15 days off a year, also receive less leave than their Lithuanian counterparts, who receive about 28. American workers spend about 75 percent of their allocated vacation time. Lithuanian employees spend almost all of their vacation time," Mastavičius noted.
He said employees in the U.S. have a solid package of benefits including 401 K pension plans, a relocation bonus, health and life insurance and partial reimbursement for studies. In Lithuania larger companies offer their employees health insurance and various benefits, but in the U.S. almost every company employee - whether in a bank or a cafe has benefits, he said.
Mastavičius said that Americans that he met no little or almost nothing about Lithuania.
"I am often asked by my American colleagues about where Lithuania is located. I have to explain that it is a country in Eastern Europe near the Baltic Sea," he said.
Mastavičius wastes no time devoting much attention to studies and personal improvement. "Always keep learning," he said. Your eyes and ears need to be open and to absorb all that you can. He tries to adhere to these principles devoting much of his spare time to studies. Currently he is studying in MRU's Master's Degree programme, "Finance Management."
"I plan to work intensively so that my investment pays off. I want to successful complete Master's Degree studies. We all know the benefits of education, but you have to devote time to studies. Sometimes I don't have that time. But, if you ignore professional development, you risk your future," he said.
When he has free time, he likes to walk in the park with his dogs, travel and to engage in photography.