Law Studies No. 1 in Lithuania.

MRU is #1 in the area of Law among all Lithuania's universities according to "QS World University Rankings by Subject 2023".
Are you looking to narrow down your law specialization? Are you interested in the law of European Union? Are you looking for ways to accelerate your law career by improving your education in this highly desired field?  
If any of the above rang as true, then master degree in European Union Law and Governance (EULAWG for short) might be just what you are looking to study. With EU law permeating our everyday life, employers are looking to hire strong specialists in this field. Do not miss your chance of becoming a master of law and accelerating your career to the next level.  
Study in Europe and receive a diploma not just from one university, but two. MRU in Lithuania and University of Bordeaux in France. Earn your double diploma by diving into contemporary topics of internal market law, economic and monetary union, EU competition and environmental law, area of justice, freedom and security and so much more.  
Conduct your law studies in English in order to become a true European legal expert. To take full advantage of this course, you will be required to know English at B2 level. 
Get a chance to have an internship in a public or private entity. Our students had their internship experiences in entities like the French Chamber of Commerce in Vilnius, French Ministry of Europe and Foreign Affairs in Paris, Western Union in Vilnius and so many more. Crown your master degree with a master thesis and showcase your accumulated theoretical and practical knowledge.  
In 1,5 years, you will receive your master degree in the field of law. You will also be awarded 90 ECTS credits for your future studies. After completing your degree, you will be able to work in national institutions, private international companies and organizations, law firms, and universities. 
At MRU, you will find a low tuition fee, making this master degree even more enticing. We also have scholarships for master studies available at our university. You can find more information on scholarships available here.  
Check out more information on European Union Law and Governance lecture content below and decide if this program is best for you. Contact us if you have more questions. If not, hit that Apply now button and get your degree started! 
Programme's recommendations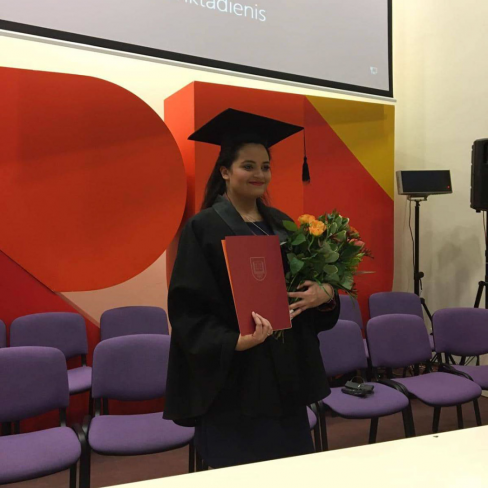 Anyssa Fatmi,
Student of the programme
During my first year of European Law Master's degree at Bordeaux University, France, I started to grow a real interest in this programme. Indeed, it had the great opportunity to have two Master's degree diplomas in two prominent European Universities. Furthermore, I always wanted to know more about the EU, being wide and 28 Member States back then. This programme offered exactly what I was looking for: lectures in English given by specialist and eminent Professors from Lithuania and France, a great flexibility and openness from the Academic staff and the administration and a real specialisation in European Union Governance. Last but not least, the courses are delivered in a way that students always feel involved and implicated in the studies. This experience was a great opportunity for me to take part not only in academic but also cultural activities. 
The wide network of the University is so great that you may encounter high-profile specialists from all around the world. Its reputation allows also to find a great internship place (French Chamber of Commerce in Vilnius or French Ministry of Foreign Affairs in France and elsewhere). 
This programme was also a way to mature and to understand even more what being European is about. It opened wide perspectives as you may discover more about yourself and your potential. The best way to get to know more about the EU is this programme. Join us! 
Have questions? Contact us!
Other study programs in this field