News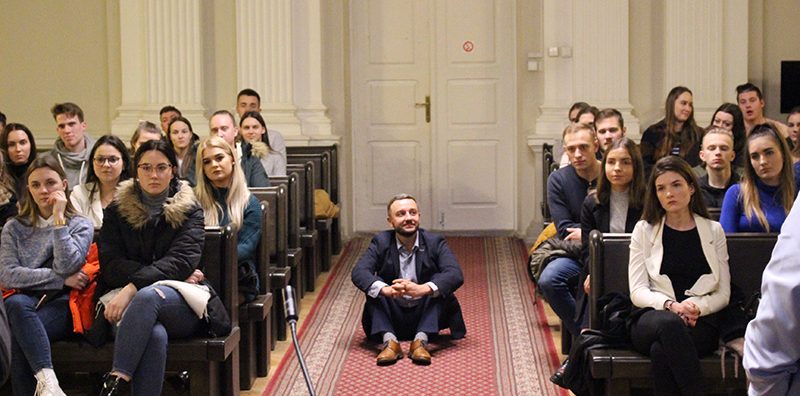 20 April, 2020
Dr. Valčiukas: Mentoring Programme Cont. Remotely During Quarantine
Law School
Despite, the ongoing quarantine period in Lithuania, studies at Mykolas Romeris University (MRU) and the mentoring programme continue online remotely. More in this interview with mentoring programme coordinator MRU Law School Lecturer Dr. Juozas Valčiukas.
The Mentoring Programme was established from the fall at MRU'S Law School. What's the aim of this programme?
-It's a career and professional enhancement programme for law students. It's a unique opportunity for students to meet with experienced professionals in their area of expertise –with mentors to determine the adaptability of knowledge gained during the studies process, to learn how to apply this hands-on and to receive useful advice and recommendations. Associating with professionals is as important as theoretical knowledge. Students have the opportunity to view the intricacies of the law profession up close and to decide what future career path to choose as well as integrate into the community of professional legal experts, lawyers, judges and others in the legal field. I can truly say that for many students this programme has become a useful part of the studies process.
How many students and mentors participate in the programme?
-I am happy that various legal professionals from different areas of the law agreed to support this mentoring programme. At Mykolas Romeris University's Law School we have about 50 mentor-student pairs engaged in the process. Judges, lawyers, prosecutors, customs criminal office representatives as well as legal experts in the public and private sector are participating in the programme. MRU Bachelor's and Master's Degree students are taking part in the programme.
Isolation and the quarantine period have changed our lives. Studies at MRU are being implemented remotely. How has the mentoring programme been affected? How are you keeping in touch with the participants of the programme remotely?
-The project had begun before the introduction of the quarantine period. There were meetings, discussions and visits to the offices of mentors as well as participation in court proceedings. I remember – before the quarantine, driving through the city and I was overtaken by a passing car. I noticed that my student, Augustė, was in the car with a fellow prosecutor, her mentor, from the court. I thought to myself that the mentoring programme has really taken off (he smiles). Despite the quarantine, the mentoring programme is continuing remotely. As far as I know, students Emilija and Eimantas have received some homework assignments from their mentor, Director of Lithuania's Special Investigation Service of the Republic of Lithuania (STT) Žydrūnas Bartkus. Another student, Laura, has received an assignment from Supreme Court Justice Aurelijus Gutauskas, her mentor, to examine a newly-issued court order. Greta, another student, has been engaged in a mentoring relationship with Judge Kristina Grinevičiūte. So, I believe that Greta has met her career path mentor. Agnė is very happy with cooperation with her mentor Supreme Court Justice Dalia Vasarienė. These are only a few examples of successful cooperation. Bilateral cooperation continues remotely and has not been halted. Many participants of the programme are getting along very well. So, the first mentoring programme's season, ending on May 23rd, will be only aformal calendar date. Cooperation will continue.
There are opinions that law is a very serious area of study. You have managed to integrate "experience type" of learning in the studies process. What type of learning is this? How successful are you in implementing this remotely?
-Yes, from the spring semester each subject related to the law for freshment students has been integrated in "experience type" learning processes. We seek to have students acquire theoretical knowledge, which they can apply immediately in practical situations. We want to have students have "experience" law from the beginning of studies, so that theoretical knowledge would be supplemented by practical experience. For example, Criminal Law students attend court hearings where they must follow a specific criminal case through the legal process with a judge presiding. After this, with the help of lecturers, students learn how to write up a court decision. Comparative Constitutional law lectures were supplemented with visits to the U.S. Embassy and the Embassy of France. There we analyzed specific constitutional issues related to those specific countries. Of course, the quarantine period has not allowed us to implement all of our plans. Despite this, and with the encouragement of Law School Dean Prof. Lyra Jakulevičienė, we created a virtual Law Experience Chamber. In this chamber, professional legal experts present informal lectures, share their experience in the field. This Chamber will temporarily take the place of "experience type" of learning and the popular "Law Rules" discussions, which students have so grown to like. These were organized in different venues in Vilnius. In the Experience Chamber, a recently we hosted a judge, who had been inducted to the judicial branch herself. We also had a prosecutor and other legal experts who discussed how to write a court decision. The quarantine period has not only not stopped the studies process at MRU and lectures and seminars continue, but has also allowed for continuation of "experience type" learning. It has become an integral part of our studies process. As for the fall, we are preparing for a new mentoring season, where we plan to have about 100 mentor-student pairs. Also, we will be organizing more lectures fro the "Law Rules" series. So virtual learning and the Experience Chamber remain as another possibility to learn from legal experts who can share their experience not only in Lithuania but also in other countries.