News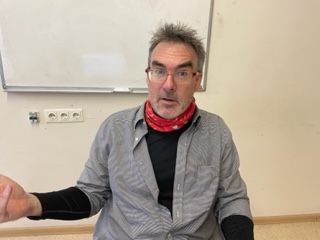 7 November, 2022
U.S. Fulbright Scholar, Art Historian Jeffrey Taylor Lectured at MRU
Studies
International Students
Events
Lecture
MRUen
Nov. 7th, 2022, U.S. Fulbright scholar, art historian Jeffrey Taylor presented a lecture to MRU Global Business and Modern Marketing students on the U.S. Art Market and Its Problems.
Taylor, who arrived in Vilnius in September, is presenting lectures on art and art history at a number of universities in Lithuania, including Mykolas Romeris University and the European Humanities University.
Having studied in Budapest, Hungary, and fluent in Hungarian, he later wrote his doctoral dissertation on "The History of the Hungarian Art Market."
He was enthusiastic about Vilnius, his new home, for the next year saying that it an "an enviable, desirable place to live."
Taylor, who lives on a yacht in Barcelona, said his "dream" is to stay and live in Vilnius and travel between Vilnius and Barcelona.
"Vilnius has become a a really nice place to live. They (city officials) have made excellent decisions from an urban point of view. Living here is like living in a big college town in the U.S. comparable to Madison, (Wisconsin) or Austin, (Texas)," he said.
When not lecturing, he divides his time between reading and exploring Vilnius and its art galleries and museums. Taylor says he was surprised by the amount of locals in cafes and restaurants in the city on Thursday night, when he was in Old Town.
"You have a vibrant, local atmosphere in the Old Town," unlike some other European cities such as Prague, which is avoided by local Czechs who tend to live on the outskirts, he said.
Vilnius was lucky to have avoided the "Venice disease" which happens when tourists take over the city and locals tend to flee and move further away from the city center.
Many of Vilnius' green spaces, parks and the bike paths made a deep impression on the Fulbright scholar. He says he may have a hard time leaving Vilnius once his Fulbright lectures end next June.
Note: Taylor was a guest lecturer in a course taught by MRU Lecturer Kristina Schimmels.