News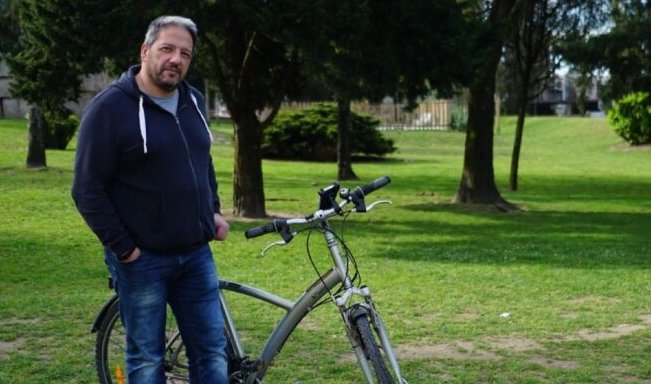 5 December, 2022
Portuguese Researcher Pinto: Plenty of Green Spaces In and Around Vilnius
MRU LAB
MRUen
Researcher Luís Pinto from Portugal, a member of the MRU Environmental LAB and a team of researchers, have compared Vilnius and Portugal's town of Coimbra in terms of green space and accessibility for pedestrians, bikers and public transport users. The research was published in a 2022 scientific article in the journal, "Geography and Sustainability" this year.
"My personal experience while in Vilnius showed me that there are plenty green spaces in and around the city offering different types of activities and leisure time. I loved the city for its greenery, said Pinto who spent a year in 2021 conducting research at the MRU Environmental LAB in Vilnius.
"While living in the northern area of the city, I was able to reach the city centre by walking mostly through green spaces, both forest areas and parks," said the researcher, who is an avid biker himself. He said that he often used electric scooters to get around the city and to visit the centrally-located Bernardinu Garden.
From what I have learned in Lithuania, Vilnius is a green city which offers its citizens many outdoor activities such as walking and biking. "This has always been a must in Lithuanian culture," he said. "This might explain the development of infrastructure in Vilnius to improve city sustainability and accessibility to recreational urban green spaces throughout all the city."
He said due to the expansion of Vilnius from 1960's to 1990's, there is a mix of Soviet and Finnish design and also large streets and spacious green areas around buildings which allowed to set up bike lanes which cover a large extent of the city, he noted.
It is necessary to reduce the number of cars within the city and develop an efficient public transport network as well as pathways for both pedestrians and bikers, he said. This will all contribute to a transition towards a sustainable transport mode and the promotion of well-being through physical activity, which are key to improving urban area living standards and the meeting of United Nations Sustainable Development Goals (SDG's) such as Good Health and Wellbeing and Sustainable Cities and Communities and Climate Action.
He said Vilnius is "on track" regarding these issues but there is always "room for improvements." When setting up new bus routes, Pinto said the priority should be buses facilitating access to urban green spaces thus "considering them as fundamental public spaces in the city."
The results of Pinto's research was published in "Geography and Sustainability" journal this year. Researchers included: Luís Pinto, Carla Sofia Santos Ferreira, Miguel Inácio and MRU Environmental LAB Head Prof. Paulo Pereira.
The article is accessible here: www.elsevier.com/locate/geosus