News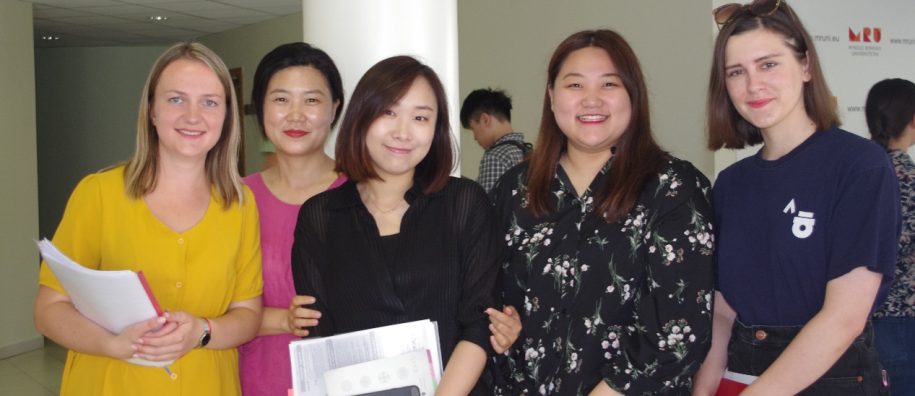 26 August, 2019
Welcome Week for Intl Students Began Aug. 26th
Studies
Community
Events
Monday, August 26th, 2019, Welcome Week events for MRU International students kicked off and took place all week. Introductory lectures, tours of the campus, ethics, migration info and introduction to e-Services of MRU Library were some of the events held for the almost 180 Erasmus+ and international students that began studies at MRU this fall.
August 26th, team building activities were held in MRU's II-233 aud.
Tuesday, August 27th, 10:00 a.m., in MRU's I-201 aud., MRU Vice-Rector for Academic Affairs Prof. Dr. Regina Valutytė delivered the Welcome address. During lectures and presentations by various MRU officials, there was info about student IDs, residence, Vilnius transport info and a lecture on academic ethics and academic writing.
Wednesday, August 28th, a "Safe Vilnius" presentation was made by the Vilnius Country Officer. Migration officials discussed "A Legal Stay in Lithuania."
August 28th, MRU's Senior Librarian Albertas Olechnovičius presented information on Digital studies and an Introduction to Electronic Services of MRU Library.
The group of students visited the Centre for Civil Education in the heart of the Vilnius Old Quarter (Totorių g. 28).
Thursday, August 29th, MRU School of Law Senior Manager Eglė Prosevičienė discussed Procedure of Studies at MRU. Later students departed to the castle town of Trakai, outside of Vilnius, for a tour.
Aug. 30th-Sept. 1st, a weekend trip to Druskininkai was planned.
MRU is welcoming the largest number of international students from Spain, Turkey, Germany and Italy.
Full programme was here: https://www.mruni.eu/mru_en_dokumentai/tarnybos/tarptautiskumo_tarnyba/Intro_Week_2019-2020.pdf