News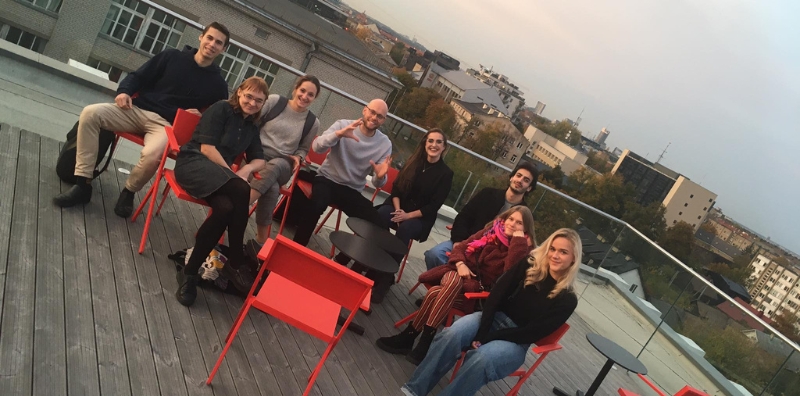 11 November, 2022
Visit to Lithuania's 1st Unicorn "Vinted" Widens Horizons
University
Faculty of Human and Social Studies
Events
MRUen
Visits
October 14th, 2022 m. Mykolas Romeris University (MRU) Communication and Creative Technologies and other studies programme Master's Degree students visited the first start-up unicorn in Lithuania, "Vinted." During the visit, there was an opportunity to hear lectures about "Vinted" innovations in management and about the organization's culture led by department representatives from Vilnius and Berlin. The visit was an introduction to another stage of the course: getting acquainted with design thinking, techniques and a practical project to be planned for the MRU community.
Presentations that Change One's Viewpoint About an Organization
Organization representatives presented their work functions, "Vinted" company principles, models used on the job which help encourage staff creativity and cooperation between one another.

MRU Master's Degree student Ugnė Barauskaitė said most noteworthy was "Agile" consultant Ozren Čolić's presentation about design sprint methods. It is a quick, active 5-day process during which team members must not only come up with an idea, but also create its design, test it and apply it for consumers. This method helps businesses implement ideas creating new products and allows to try them out together with clients. Various sketches are used during this process becoming prototypes and then implementation follows. Some MRU students were rather startled, and others became interested, when they heard that a similiar process will be used when creating a MRU communication project.
Another student, Ramunė Staliūnaitė said her imagined "Vinted" was a girl's wardrobe, but during the visit it became an arena of possibilities. There is a place in this arena for everyone who is able to seek to implement their goals. Many of the staff of this company work even as the weekend draws on. They are lured by a great work atmosphere, coffee, snacks, a comfortable work environment which includes a sports hall, a game room and rest areas.
Usefulness of Studies Visits
Although society and the press is rather critical of university studies as not very practical and useful, the truth of the matter is that we have many fine examples that show this isn't true. The studies visit showed students that the lectures were useful and practical providing methods of application. Furthermore, students were acquainted with the most up-to-date methods, applied in start-ups-unicorns. Experience from such organizations was provided even to students who don't plan to work in the business sector.
Public Governance and Business Faculty Assoc. Prof.  Dr. Miglė Černikovaitė, who came with a group of students, said the visit to "Vinted" was very interesting because it was possible to learn about innovative, modern company processes. One of the reasons for success of this company is continuous product innovations, in the area of process and human resources.
"Vinted" not only provides a way to sell unwanted clothing and products, but it's also an organization continuously on the move and seeking to improve.
One student, Saulius Andrukonis, pointed out that one way of understanding the importance of university studies is sometimes traveling beyond university walls to hear company business stories.