News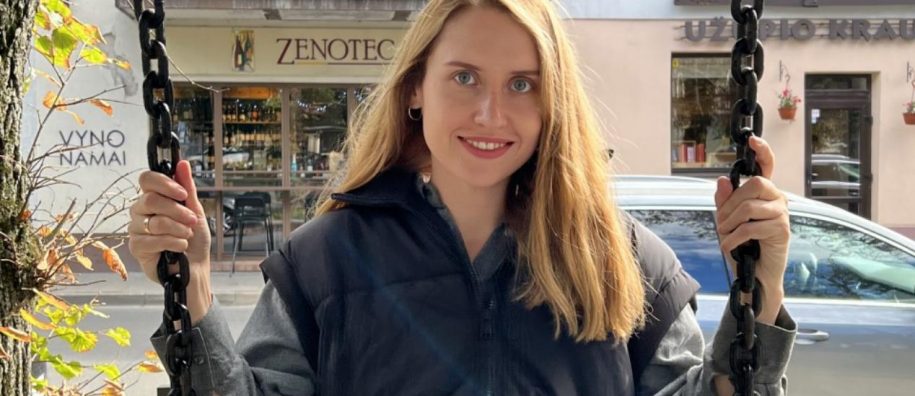 1 March, 2023
Ukrainian LAB Researcher: I Would Like to Thank MRU For All It's Doing to Help Ukraine & Ukrainians
Community
MRU LAB
MRUen
Mykolas Romeris University's (MRU) Environmental Management LAB junior researcher Yuliana Shuhani said the outpouring of support from the University's academic community for Ukraine and its people has been huge.
"I would like to thank the University for what MRU is doing for Ukraine and its people. I am very grateful," added the researcher who recently completed her Bachelor's Degree in Tourism Management at MRU.
"At the beginning of the War, the University gathered all the Ukrainian students so we could meet each other. It felt good to meet so many Ukrainians on campus. I want to thank my Lithuanian lecturers who were writing to ask how they could help, once the War in Ukraine began. I was so impressed with the outpouring of support," said Shuhani.
A polyglot, who taught English in Shanghai and in Ashdod, Israel, Shuhani said the best years of her life have been at MRU Vilnius.
"When I was a kid, I dreamed of living in the forest," said the researcher. "My dream came true because now I am living in a city – Vilnius, which is in a forest."
"I feel almost at home in Vilnius. I feel lucky that I live here now in Lithuania. It's a very welcoming country and cozy," she added.
Although she had planned to go abroad to the U.K. or the Emirates after completing her studies, she now plans to settle in Vilnius.
She landed a job in the Environmental Management LAB headed by Prof. Pereira last year. Currently Shihani is working on some research projects including the European Union HORIZON SELINA project.
Having arrived in 2018 in Lithuania to begin her Bachelor's Degree studies, she is now planning to pursue a Master's Degree and continue research.
When she has spare time, she travels to Chernivtsi to visit her parents and brother. It's a 24-hour grueling bus ride, said the researcher, but it's good to visit with family.
"The worst thing is the problem with electricity in Ukraine. Some days the electricity only works for 3-4 hours. If you don't have electricity, you don't have water and heat," she said. And then there are the missiles.
"When the air sirens go off, you have to find a place to hide. You never know when or where the missiles will hit," she said.
Shuhani, who is Romanian, speaks the language, but has never visited Romania. She attended Romanian schools until the age of 10.
"I was born in Ukraine. Ukrainian culture is something I was raised in and where I feel comfortable," said the researcher. She speaks not only Romanian, but also Ukrainian, Russian, English and some Spanish. She is in the process of learning Lithuanian, but said it is a difficult language.
"From September I plan to take classes in Lithuanian," she added. If I live in Lithuania, I need to be able to speak Lithuanian."
Ending the interview, Shuhani said she feels very lucky to live in Vilnius and work in the LAB.
"It's probably the best thing that has happened in my life," she said.