News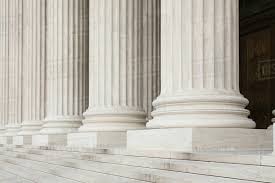 14 March, 2019
U.S. Lawyer Epstein Lecture: Development of Wine Law March 14th
Law School
Studies
Events
Lecture
March 13th-14th, 2019, U.S. lawyer Robert Epstein from Indiana presented a series of lectures at Mykolas Romeris University (MRU). Mr. Epstein is one of the founders of Epstein, Cohen, Sief & Flora and has practiced law since 1970.
On March 13th, he lectured on the U.S. Jury system and U.S. Supreme Court cases.
March 14th, he presented a lecture, "The Development of Wine Law in U.S."
Mr. Epstein has engaged in many areas of civil litigation, including product liability, medical malpractice, automobile accidents, and business litigation.
He was the first lawyer in the U.S. to litigate the constitutionality of a state's ban on interstate shipments of wine. The resulting opinion by the U.S. Supreme Court in Granholm v. Heald found bans in Michigan and New York unconstitutional, opening the door for the interstate shipping of wine. Mr. Epstein has handled over 20 similar suits in federal court.