News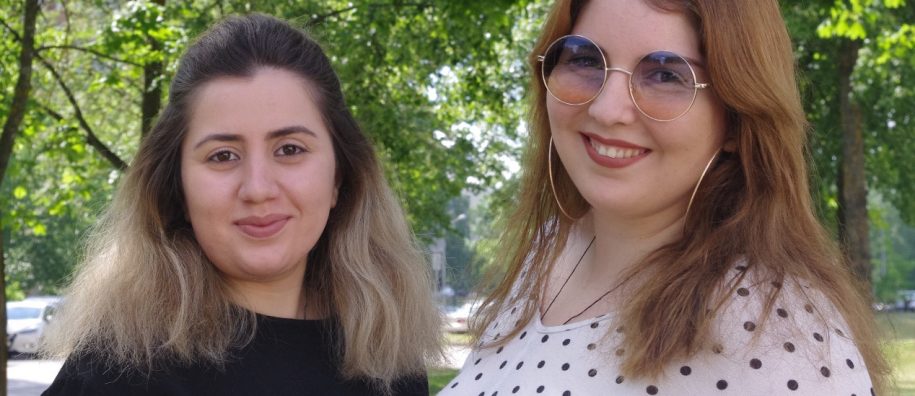 7 June, 2019
Two Childhood Friends in Love with Law & MRU
Law School
Studies
Two students from Georgia - Mariam Oragvelidze and Salome Kacalidze are friends since kindergarten. They are studying in MRU's Law Master's Degree programme, "European Union Law and Governance." It is a double diploma programme implemented together with France's Bordeaux University.
While pursuing studies at MRU, "we are connecting with different people from different countries. We are discovering different cultures," said 22-year-old Mariam.
"It's a big challenge to study here," said Mariam. "It's good when you are going abroad with your best friend," she added.
Salome wants to become a Law Professor and practice Law, while Mariam is also thinking about a career in law. When they pursue doctoral studies, they will do so in a country abroad - maybe in Germany or maybe in the U.S.
Mariam is currently writing her Master's thesis, "Data Protection in the European Union." Her friend Salome is writing about "Foreign Security and Defense Policy in Europe."
Both students said they learned about MRU Vilnius from a friend who had studied here in the Erasmus programme. "I also read the programme content. It's really good. I am interested in EU Law," she said.
First impressions of Vilnius when they arrived in September were how "very cold" it was.
"Generally, I like Vilnius because it's a quiet city and the Old Town is amazing," said Mariam. "The city of Vilnius is amazing," added Salome, who is a great cook herself and can cook just about any Georgian dish.
They manage to tour the city and visit different sites, when they are not studying. Both students said the friendliness and hospitality of the Lithuanian people they have met has been amazing.
"When we arrived in Lithuania, the border guard's first reaction was he was smiling. My first expectation was that I'll feel like at home here. My expectation has come true. We have met a lot of good people here - especially at the University," Mariam said.
Sometimes they go out to eat at different restaurants and cafes. Hospitality of the Lithuanians, the girls said, is outstanding.
When they went to the Vilnius Šnekutis restaurant recently, the Lithuanian owner found out they were Georgian and the meal and drinks were on the house.
"It was very nice," said Salome. "It was nice and unexpected."
While both students miss their families in Georgia, they say they would recommend studies at MRU to fellow Georgian students.
"I think that in the next years there will be more Georgians here," Mariam said.
More about the Master's Degree programme here: https://www.mruni.eu/en/prospective_students/degree_programmes/european_union_law_and_governance_g/