News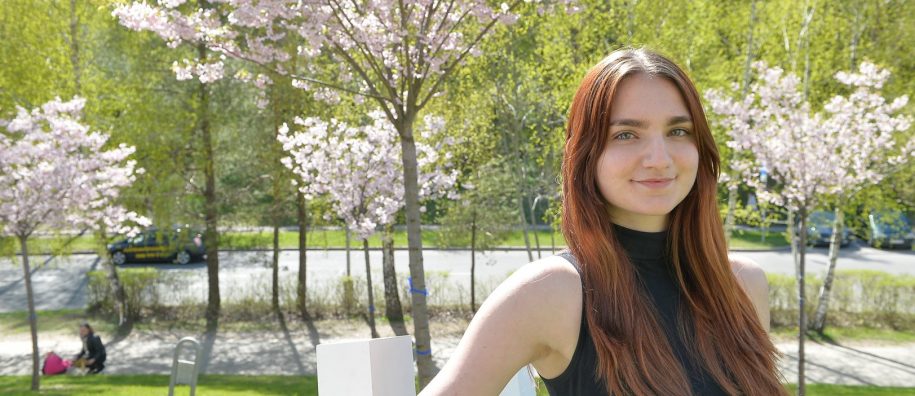 14 June, 2022
Student from Romania Carmen: Semester at MRU Changed My Life & I Got Acquainted with Different Cultures Here
Faculty of Human and Social Studies
Studies
International Students
Community
Erasmus
University
Romanian student Carmen Colceriu is majoring in Psychology and spending an Erasmus semestger at Mykolas Romeris University (MRU). A diligent student, she also loves sports and dancing. She started dancing when she was 3 years old and in Vilnius discovered salsa and Latin Dance. The Erasmus exchange student finds spare time aside from studies to engage in sports, attend films, discussions, yoga lessons and Latin Dance lessons. Most surprising to her is that all extracurricular activities are free and offered at no cost to students at MRU. She answered a few questions before the start of her Latin Dance evening lessons.
-Why did you come to Vilnius?
I was searching for a place – a University, where I could study Psychology in English. I wanted something that is not Romanian and the culture to be a bit different. I found Mykolas Romeris University online and realized that this is the university for me.
-What did you know about Lithuania before coming?
Not a lot of things. We Romanians often mix up the two countries, Latvia and Lithuania. We confuse the two countries because of the similar names. I didn't know much before coming – I only knew that it would be colder than in Romania. I imagined a lot of snow here, but did not know much about Lithuanians, the people.
-You are here almost 5 months. How do you find life in Vilnius and the University?
Everything here is like a dream because of Erasmus students and the many countries they come from. Everyone is very open in Vilnius and you get to know many cultures while living on campus here. At the dormitory we discuss differences in languages, exchange food recipes and study tips. Each week there are special events scheduled – discussions, films, tea ceremony, sports. I was really impressed to find out that the University offers free sports and classes. I attended all of them: yoga, pilates, karate, judo, Latin dance. It was all about trying new things. I loved that the University offered me all this and the possibility to try them.
-Did you learn some Lithuanian during your time in Vilnius?
I did not study it, but have learned some Lithuanian words and phrases. I have started to listen to Lithuanian music and this is my way of learning a bit of the language. I started with (singer) Monika Liu (Liubinaitė) and listened to her songs and also to some songs by Andrius Mamontovas.
-What are the differences between studying here in Vilnius and in Romania?
In Romania we have as many as 300 students in one Psychology class and here there are 20 students. It was different for me in the sense that I was able to contact the lecturer easily and to get to know all of my fellow classmates. There is a real connection between lecturers and students here in Vilnius.
-What other differences did you find between your country and Lithuania?
I had never lived in a capital city before. This was new for me in Vilnius. I took advantage of all the activities made available to students. At the beginning of this year I went to the Light Festival held in Vilnius. It was a perfect way to explore the city and learn more about it through this kind of event. There are always more events in a capital city than in smaller ones. Also, I got to see snow for a month. We have some snow, but not as much as in Lithuania. When I was younger, I remember building snowmen during the winter. When we came here, we started to make "angels in the snow."
-You and other students during the last several years encountered many challenges during your studies. How did you cope?
Well, there were challenges due to the COVID pandemic. I studied remotely so that was different. For a long time exams and lectures were held remotely. Even during my first semester in Romania, we had only seminars. I've never had an exam on site. Here I had my first exam in Vilnius face to face. I've also never lived alone, so this was a new challenge for me in Vilnius.
-How did you become interested in dance and dancing?
When I was 3 years old, my mother took me to a ballet performance, which I especially liked. I kept saying to her that I wanted to take ballet classes. She signed me up when I was 3 years old and I took ballet up to 13 years of age. I stopped only because my teacher retired. I switched to contemporary dance and it was the best choice for me. Here in Vilnius I could learn Latin Dance and salsa steps. In Romania we are strong not only in dance, but also in gymnastics. Many young Romanian girls take ballet, but they give up, as they grow older.
-Did you have a chance to visit any other Baltic countries?
I want to visit Riga and Tallinn before heading back to Romania at the end of June. I want to see this part of Europe before returning to Romania. It is not common for us Romanians to visit the Baltic countries because people in Romania don't know much about these countries. During summer vacation, we go to Spain or to Italy – by the seaside. It is not common to visit northern countries during vacation time.
-What do you plan to do after graduation?
I will graduate with a Bachelor's degree in Psychology in 2023. Then I plan to pursue my Master's Degree, but I am not sure where. I am planning on studying abroad. I wanted to go abroad for my Bachelor's but it was not possible so I came to Vilnius as an exchange student for a semester. And this semester changed me and changed my life.