News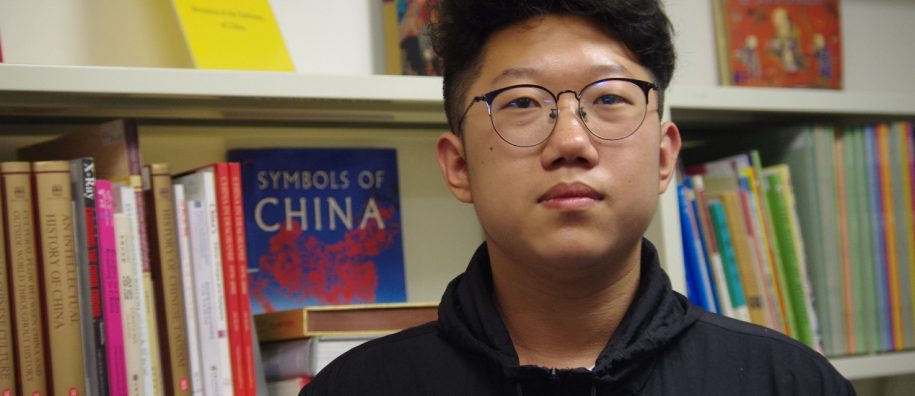 11 September, 2019
Student From China is Huge Basketball Fan
Community
Not only Lithuanian basketball fans are glued to TV screens watching the Basketball World Cup in China, but also Chinese student Feng Yuchen, who is a big basketball fan.
Feng is studying in the Financial Industry Bachelor's Degree programme. He dreams one day of traveling to the U.S. to watch a Los Angeles Lakers Game and see the star player, LeBron James.
But for now, he's watching the U.S. team face off Sept. 11th against France in the Basketball World Cup.
The Bachelor's Degree programme at MRU was recommended to him by his teacher in Lang Fang City, about 50-km from Beijing.
It is his first time outside of China and first trip to Europe, so everything is of interest to the 18-year-old student.
"I would like to work in my home town, when I graduate," said Feng, who was wearing an "Air Jordan" basketball jacket.
He is just getting adjusted on campus and found new friends not only from China, but also Japan and Vietnam already.
"Everyone is so kind and friendly here," said Feng, who looks much more mature than his 18 years may suggest.
He finds the campus environment, especially the park nearby, beautiful, but said the environment, food and lifestyle are different here and in China.
A fan of American fast-food includng McDonald's and Kentucky Fried Chicken (KFC), he said he likes to eat hamburgers and drink Coca-Cola.
He spends much time in the Library preparing for classes and studying.
Feng is often accompanied by Chinese native Zhang Zehan, who is a student in the Tourism Management programme.
"I'm excited to be here," said Feng who hopes to travel some in Europe, after completing studies at MRU.
"I would like to go to Canada, America, Britain and London," he said. "After graduation, maybe I will go on a trip," he added.