News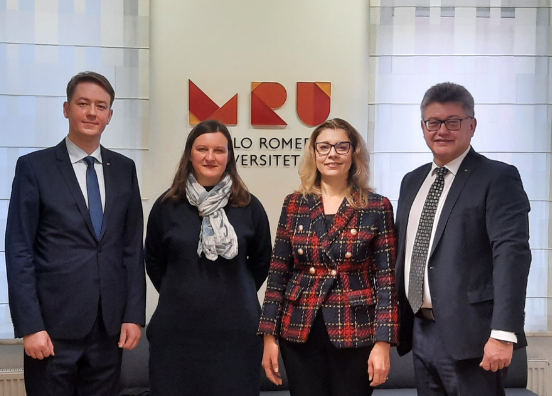 23 December, 2021
MRU Rector Signed Cooperation Agreement with Green Policy Institute
University
Events
Meeting
Partnership
Dec. 23rd, 2021, Mykolas Romeris University (MRU) and the Green Policy Institute signed a cooperation agreement seeking effective sustainable principle implementation at the University.
MRU Rector Prof. Inga Žalėnienė and Green Policy Institute Director Remigijus Lapinskas signed the agreement. MRU Public Administration Institute Director Prof. Andrius Stasiukynas was present at the signing ceremony along with MRU Vice-Rector's advisor for sustainable development issues Dr. Nomeda Gudelienė. 
"Today's ecological challenges, the European Union's policy towards sustainability and the growing public awareness indicate the concept of sustainability to become increasingly important in every organization's life," said Green Policy Institute Director Lapinskas. In the near future attention to sustainability will become unequivocally the basis for successful activities. Universities are not an exception. Recognizing the scale and significance of the environmental challenges, MRU has decided to take the lead in finding solutions that ensure the full and most effective implementation of the principles of sustainability.  Beginning with energy efficiency and the transition to clean energy, to promoting green procurement and building a culture of sustainability within the organization," he noted.
We are delighted that the University has chosen the Green Policy Institute as a partner, whose experts will help evaluate the existing progress and will provide recommendations. We look at the whole process as a strategic step for all of Lithuania, he said.
Prof. Stasiukynas expressed happiness with the beginning of the partnership and maintained that with the Green Policy Institute the University will be able to successful create sustainability implementation methodology and models for public sector organizations. There  will be a learning and studies subject module, which will be for sustainable development management. It will be include in pubic administration studies programmes, he noted. There are about 4,000 organizations working in Lithuania's public sector (where more than 340,000 people are employed). He said if during the cooperation process, the created sustainable development management models will be used by at least 20% of organizations during the next 3 years and by 2030, by an additional 60%, it will be a noteworthy contribution to Lithuania implementing Europe's green path and to come closer to European Commission goals to make Europe the first continent to be climate neutral.
The mission of the Green Policy Institute is is to promote sustainable development decisions, based on scientific research and experts' analysis into Lithuanian business, politics and society. The organization operates from 2011 successfully promoting green policy ideas, developing activities in the areas of environmental safety and ecological education and implementing projects on the international, national and municipal level.