News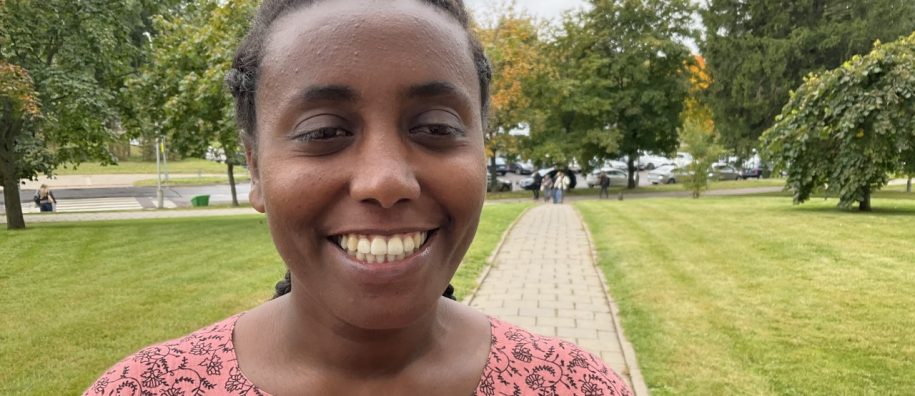 20 December, 2022
Scholarship Winner Lina from Ethiopia: Coming to MRU Vilnius for Studies was Life Changing
For the 33-year-old Ethiopian Lina Deribe Shiferaw, coming to Vilnius was a life changing experience. It was the first time that she had left her country and the first time that she experienced cold, snowy weather. She had taught Psychology in Ethiopia before coming to Vilnius earlier this year. She was also a social support officer at an internally displaced people's (IDP) camp in Ethiopia. A gap in some skills and knowledge convinced her she needed to pursue a Master's Degree.
-Why did you come to Lithuania?
I was working as a social worker in Internally Displaced People's camps (IDP) in Ethiopia. When I was helping people in these places, I realised I needed more information for helping others. I decided to apply to a Master's programme at Mykolas Romeris University, "European Joint Master in Social Work with Children and Youth". I applied for a scholarship and won, despite the intense competition.
-What did you know about Lithuania before coming here?
I didn't have a lot of knowledge before coming here; however, after I won the scholarship, I started searching for information to learn as much as I could about Lithuania. 
-How did your parents react to you going away to study in such a far off country?
My parents became excited. Ethiopia is one of the poorest countries. My parents and I see studies in Vilnius as an opportunity to learn more. My parents see something bright in my future. My mother told me that I am strong and I can do anything that I set my mind to. I think of this when I encounter difficulties, and it helps me to continue studying. 
-What are the differences that you notice between Ethiopia and Lithuania?
Well, this is my first trip abroad. I'm challenged by the environment and especially the weather. I come from a city where the temperature reaches 36 degrees. It's a very hot desert and is good for walking around at night. In Lithuania, I've noticed that you have many green places, even forests near the centre of the city. But the way people live here is different. I come from a collective society where, for example, drinking coffee together is important. In my country, it is mandatory to be hospitable and helpful to strangers. Here in Lithuania, people are more focused on individual concerns. Additionally, I come from a country where bright colours, even white, are popular. When you wear something bright, it is more likely you will think positive. 
-You come from a coffee country. How often do you drink coffee during the day?
Coffee is important in our culture. If it is a holiday and guests come, you show respect for a guest when you make them coffee. People who are older tend to drink coffee more often during the day with neighbours or friends. We make coffee three times a day: in the morning, in the middle of the day, and in the evening.
-You were a social worker in Ethiopia. Was it very challenging?
Yes, it was challenging because I was helping people who were fleeing the war. There are about 4.2 million internally displaced people (IDP's) in Ethiopia. These individuals need a lot of help, especially traumatised children. 
-What are your plans after you complete your studies?
After graduation, I have to go back and contribute professionally in some capacity. In Ethiopia, I will continue my work in IDP camps and I will be able to apply what I have learned here in Europe. During my studies here, I expect to gain more knowledge about social work. I want to learn more about the principles of social work and how things work in Lithuania. We visited the SOS Children's Village and the international Catholic organization, Caritas, which helps the poor. I am interested in the programmes these organisations run and how these programmes are managed. In the end, I want to be a true social worker with empathy for people I will be helping.