News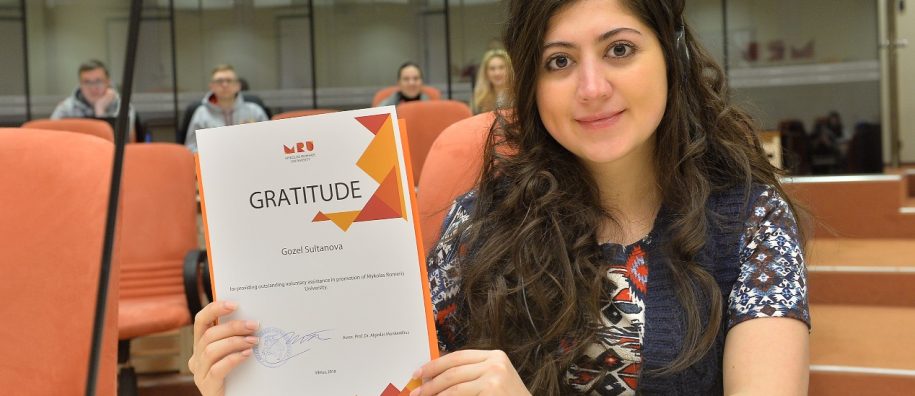 1 March, 2018
Rector Awarded Certificates of Gratitude to Over 30 Students
Community
Feb. 27th, 2018, MRU Rector Assoc. Prof. Algirdas Monkevičius awarded Certificates of Gratitude to more than 30 MRU students, including several international students.
They were recognized for promoting MRU, for studies' innovation and for exceptional dedication to various projects.
MRU's Erasmus trainee Aitor Buján Pereiras was recognised for success in photographing students' greetings in their native tongue for the Feb. 16th Lithuania Independence holiday project.
Several students from Turkey were congratulated and received certificates for active involvement in student and studies' activities at MRU. They included: Erasmus+ exchange students Busra Demir, Elif Gurcan, MRU Psychology student Hilal Baki and Ik Nur Karakecili, also a Psychology student.
Azeri student Gozel Sultanova, an exchange student, was recognized for her dedication and hard work.
Psychology student Sri Poojitha Vegesna from India also received an award.
About 30 other Lithuanian students were recognized also. MRU Student Body President Kamilė Salickaitė was recognized for representing students, successful implementation of innovations in the studies process and her hard work at the Student Body Office.
Other students recognized from the Humanities Institute included: Angelina Zhaliazka, Avigėja Jarmolo, Eglė Genytė, Irena Alperytė, Olivia Pieczulis, and Vykintė Šimkutė.
MRU students recognized for hard work, for being active and initiative implementation included Public Administration student Ausma Kairytė.
Certificates of Gratitude also awarded to: Agnė Maldžiūtė, Akvilė Norkutė, Arnas Graževičius, Ernestas Mažeika, Giedrė Golubevaitė, Gintarė Vaikšnoraitė, Greta Burbaitė, Hanna Truniova, Ignas Skavydis, Justina Ankudavičiūtė, Loreta Schlik, Saulėja Ilgūnė, Miglė Stanevičiūtė, Mirga Mačionytė, and Povilas Milišiūnas.
Public Security Faculty students are recognized for their participation in studies' fairs and other events included Martynas Kačinskis.
For creativity and for their projects/events the following students were recognized from the MRU Communication Institute: Dominyka Kalibataitė, Eidvilė Jezukevičiūtė, Gabija Raudeliūnaitė, Justina Vadoklytė, and Rūta Tijūnaitytė.
Congratulations to all the students!