News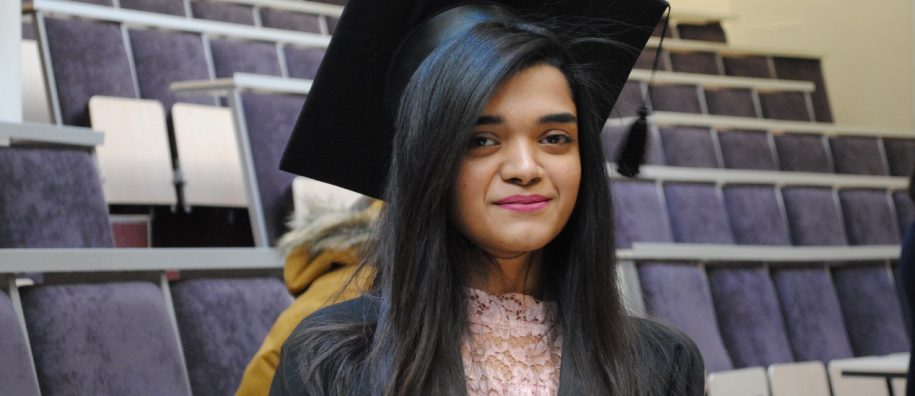 24 January, 2019
Psychology Grad from India Sri Poojitha Recommends Studies Abroad
Faculty of Human and Social Studies
Studies
International Students
Jan. 24th, 2019, Mykolas Romeris University (MRU) Psychology student Sri Poojitha Vegesna from India graduated and is already packing her bags to take part in an Erasmus+ traineeship in Turkey.
She was awarded her diploma during graduation ceremonies on campus with several other international students from Italy and Turkey. 
Sri Poojitha said when she began studies at MRU, it was difficult because there were no other students from India. Despite this, she said she would "definitely" recommend fellow students go and study abroad to widen their horizons. 
"The experience is very important for me - living alone, independently," said the 21-year-old. 
When at 18, she told her parents she wanted to leave India and go study abroad, they were petrified and refused to allow her to go. But, realising that she was serious and wanted to graduate from a foreign university, relented when she told them it was safe to study in Vilnius. MRU's 
Psychology programme
was the perfect fit. 
"When compared to India, I am satisfied," she said about her studies at MRU. 
At MRU's international campus, she made friends with students from Turkey, Africa, Indonesia and Poland. She said there are "many opportunities" at MRU to meet students and study. 
"I had options to go to Poland for studies," she said, but found out it was much safer in Vilnius. 
After more than 3 years in Vilnius, she confirmed that it was a very safe city for international students. She said she never had any problems going out at night or even stepping out late for a kebab dinner. 
"I am proud to be here and to have graduated, despite the cold weather outside," said the ever-smiling student, who hails from Hyderabad.
More about the MRU Bachelor's Psychology programme 
here
.