News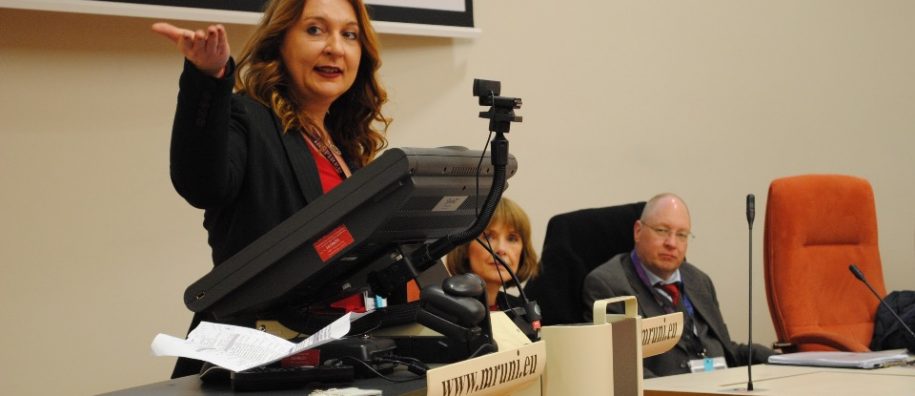 23 March, 2018
Prof from Abroad Delivered INSPIRED Project Lectures on Refugee Law
Community
March 19th-23rd, 2018, Mykolas Romeris University (MRU) Law students took part in the 1-week Innovative project on campus. The Solutions for Practicality and Impact in Refugee and Migration Oriented Education (INSPIRED) studies' programme project involves several European universities.
MRU Vice-Rector Prof. Dr. Inga Žalėnienė delivered the opening address.
Six different European universities are taking part in the project including MRU's Law Faculty.
Lecturers from these University Law Schools will be present: Croatia's Josip Juraj Strossmayer University of Osijek (project coordinator); Inholland University of Applied Sciences (Den Haag, Netherlands); University of Pecs (Hungary); London South Bank University (United Kingdom); Northern Ireland's University of Ulster (Associate partner) and MRU.
The goal of the project is to improve the quality of legal education in the field of Refugee and Migration-oriented education at European Law Faculties. It also aims to recognise ECTS points and harmonise law study programmes across partner universities.
The project will result in a joint interdisciplinary learning module on refugee and migration law.
The project emerged to supply a need to implement a program allowing students to specialize in refugee and migration law. Given the recent events in Europe and elsewhere abroad, Refugee and Migration Law is one of the most current issues in the European Union. The main emphasis of sub-modules will be fundamental rights justice and security and refugee law.
This project is co-funded by the EU Erasmus+ Programme K2 Strategic Partnership in Higher Education programme and will be implemented from October 1st, 2017 to September 30th, 2019.