News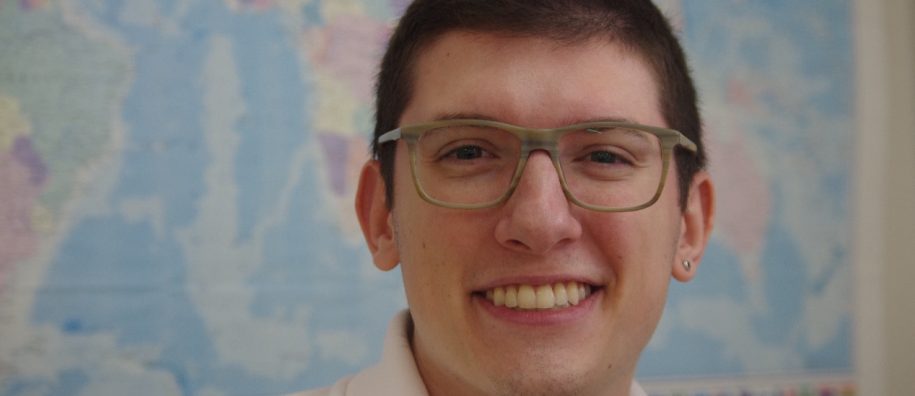 6 June, 2019
Polyglot Law Student From Brazil Wants to Pursue PhD at MRU
Law School
University
Studies
Student Ricardo Sergio Schmitz Filho from Brazil is undertaking an Erasmus+ internship at MRU's Law School. He is also writing his Master's thesis, "Taxation in the Digital Economy," just months before he graduates from the joint programme, "European and International Legal Practice" at the University of Lisbon.
He said he was attracted to stay and pursue further studies at MRU because "it's a very international environment."
"The University is expanding and wants to become more international," he added.
Having come to MRU as an exchange student, MRU's "open and helpful" professors were also what convinced him to stay at MRU and Vilnius. "This was a surprise for me," said Ricardo speaking about MRU professors and their eagerness to help.
"I was afraid that it wouldn't be like this, so it was a surprise," said Ricardo, who practiced law for almost 2 years before leaving his home town of Recife to study in Portugal.
"I didn't expect such openness before coming here," said the 23-year-old student, who is taking Lithuanian language classes to learn Lithuanian. He is already fluent in Portuguese, Spanish, French, English and conversant in German.
"If I stay in Lithuania, I want to be fluent in Lithuanian," he said and had nothing but praise for MRU Prof. Violeta Janulevičienė, who teaches Lithuanian language.
"She's a very, very good professor. She makes it interesting to study Lithuanian and also provides a cultural experience. The classes with her went very well," he said.
Ricardo also praised MRU Law School Vice-Dean Dovilė Gailiūtė-Janušonė who helped him get established at MRU and undertake the internship.
He said he also has "very good feelings" about Brazil's and Portugal's universities where he studied. "I see that every cultural has a different way of dealing with the subject," he said.
Although he was offered to go study in Germany or France, he opted for MRU in Vilnius due to the quality of the law programme and courses offered here.
"I really like the mentality of the MRU University on internationalisation," said Ricardo, who hopes one day to be a law professor himself.
Ricardo plans to pursue doctoral studies at MRU and has just about convinced his Brazilian girlfriend to move to Vilnius. But first he must complete his Master's Degree studies.
"My goal is to be a PhD before I'm 30 years old," he said.
"Everything that I do, I like to do it well," said the student, who one day hopes to present law lectures at MRU himself.
Although he loves to travel and recently returned from Italy, he said now he is busy with his 2nd internship in Vilnius at the tax, legal and audit firm Deloitte.
Anything he misses while in Vilnius? Of course, Brazilian coffee and beaches, he said, but tries to go back to Brazil often to visit his younger brother and relatives.
"I miss the food - the beef," he added. "I went to Brazil between December and March and I could enjoy the beach," he said.
He notes that coffee is expensive in Vilnius as it's possible at his university to get an espresso for .30 cents.