News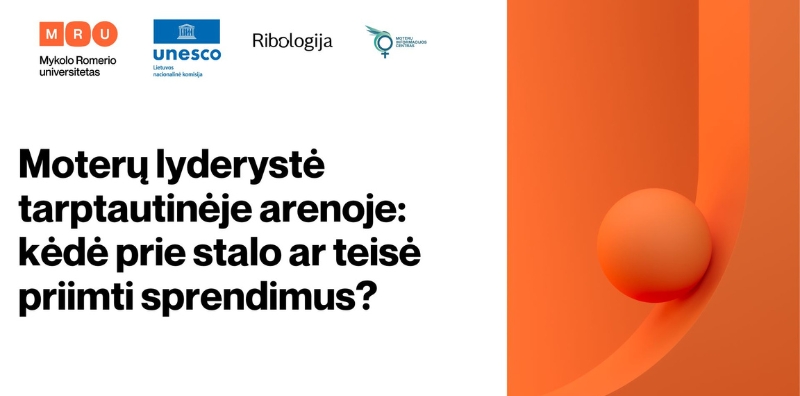 19 January, 2023
On International Day of Women in Multilateralism – A Discussion About Women's Leadership in the International Arena
Events
January 25th, 2023, Mykolas Romeris University (MRU) hosted a discussion, "Women's Leadership in the International Arena: A Seat at the Table or the Right to Make Decisions?"
UNESCO's General Conference has adopted a Resolution declaring January 25th as the International Day of Women in Multilateralism. The purpose of this day is to draw attention to the role of women in forming international policy and to encourage representation of women in the international arena.
European Women Rectors Association (EWORA) Council member and MRU Rector Prof. Dr. Inga Žalėnienė began the discussion along with the Secretariat of the Lithuania's National UNESCO Commission General Secretary Miglė Mašanauskienė. Others participating included European Parliament member and March 11th Signatory Rasa Juknevičienė, MRU Law School Dean Prof. Lyra Jakulevičienė, U.K. cultural diplomatic organization - British Council Head in Lithuania Ona Vyšniauskaitė and an adviser to Lithuania's President Kristina Belikova. 
Women's contribution to the formation of foreign policy has been particularly prominent since the drafting and signing of the United Nations Charter in 1945. Then Eleanor Roosevelt and a group of women from all over the world contributed significantly to the preparation of the Universal Declaration of Human Rights - they sought to consolidate the principles of freedom, equality and non-discrimination. Since then, women have taken important leadership positions in international organizations to ensure the principles of gender equality, peace and human rights and equal opportunities for all to participate in decision-making. However, currently only 23% of women make up delegations to United Nations peacekeeping processes.
Organizers of the event were: Mykolas Romeris University, Secretariat of the Lithuanian National UNESCO Commission, the Women's Information Center, and the non-profit Ribologija organization who aim to encourage dialogue.
Register for the event here.