News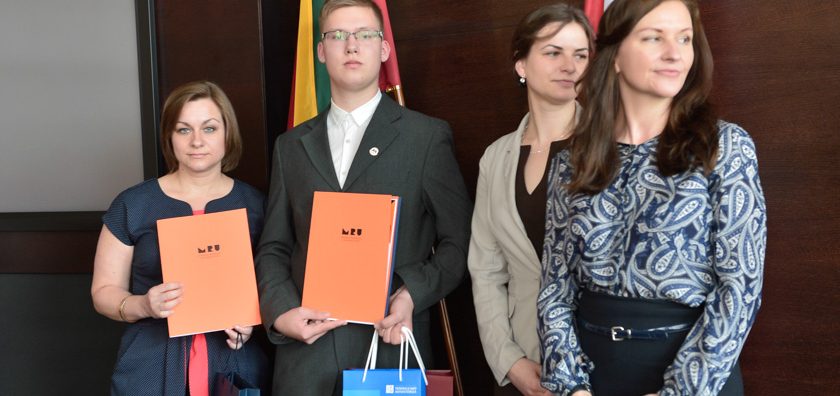 31 May, 2016
National Law Olympiad Winners Awarded Prizes – Trip to EU Parliament
Law School
Events
May 30th, 2016, pupils representing some 70 gymnasiums and high schools were awarded prizes in the first National Law Olympiad.
Justice Minister Juozas Bernatonis congratulated the winners during a ceremony held at the Justice Ministry.
Mykolas Romeris University (MRU) Rector Assoc. Prof. Algirdas Monkevičius, MRU Law Faculty Dean Prof. Lyra Jakulevičienė and other MRU academics were on hand to congratulate the winners.
Vilnius Law Faculty Prof. and Lithuania's Lawyers Association Chairman Vytautas Nekrošius and Eurovision participant, Lithuanian singer Jurgis Didžiulis addressed participants.
Some winners won scholarships for Law studies, others won a trip to the European Parliament in Brussels courtesy of EU Parliament member A. Guoga, or to attend summer schools.
This year there were 812 pupils from gymnasiums that participated in the first stage of the Olympiad. During the final stage about 400 pupils in the 9th-12th classes, representing about 70 different high schools and gymnasiums, participated.
The most finalists were sent from schools in Alytus, Kaunas, Panevėžys and Vilnius.
According to Olympiad organizer Law Faculty Dean Prof. Lyra Jakulevičienė, it was wonderful to have the entire legal community of Lithuania participate in thę event.
We offered Olympiad participants interesting and useful topics, which will help pupils even after the Olympiad ends. We hope that this event will become a traditional event and that next year not only pupils, but others will also take part because basic legal information is a growing need in today's society, she said.
Winners among the 9th-10th class pupils were the Kaunas Technology University (KTU) Gymnasium pupil Vytautas Oniūnas (teacher Domas Boguševičius), and among 11th-12th classes - Šilalės Simonas Gaudėšius Gymnasium pupil Paulius Auryla (teacher Paulius Bijūnas).
The 2nd place, among 9th-10th classes, went to Alytus Vidzgirys School pupil Rytis Balevičius (teacher Petras Karčiauskas), and among 11th-12th classes – Vilnius Žirmūnų Gymnasium pupil Aurelija Diana Šukevičiūtė, (teacher Jūratė Varakauskienė).
Third place, among 9th-10th class pupils, went to Mažeikiai Merkelis Račkauskas Gymnasium student Kajus Šarpnickas (teacher Vaida Košinskienė) and the Pabradė "Ryto" Gymnasium pupil Darius Varnas (teacher Danguolė Grincevičienė). The winner, among pupils in 11th-12th classes, was Ignalina Gymnasium student Agnė Smagurauskaitė (teacher Vitoldas Rinkevičius).
The Olympiad was held in conjunction with the Justice Ministry and organized by MRU and Lithuania's Lawyers Association.
Event partners were: Lithuania's Education Ministry, the General Prosecutor's Office, Lithuania's Bar Association, Lithuania's Supreme Court, Lithuania's Association of Notaries, the National Court Administration, EU Parliament member A. Guoga, the International Law Office of Eversheds Saladžius, Transparency International's Lithuanian chapter and PricewaterhouseCoopers.