News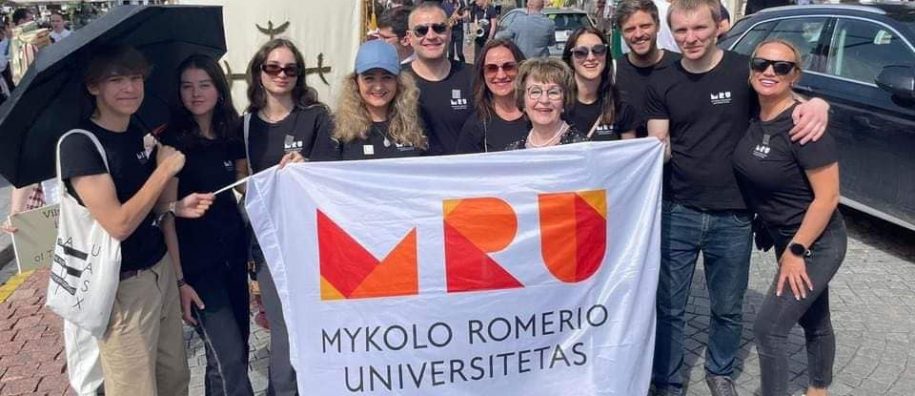 23 June, 2022
MRU's Singing Studio, Headed by Vitalija Semeniukienė, Performed at Student Song & Dance Festival "GAUDEAMUS"
Community
June 17th-19th, 2022, the Student Song & Dance Festival "Gaudeamus" brought together over 3,000 people. There were participants from the three Baltic States performing in the Vilnius Town Hall Square, St. John's Church and Kalnų Parkas, (Mountain Park). Initially, the festival featured dancers and individual choirs from each country, and later everyone joined together for a joint performance. Mykolas Romeris University (MRU) was represented by the Singing Studio of concertmaster Vitalija Semeniukienė
This year's grand concert recalled the period of the Singing Revolution in 1988-1991. At the big concert of the Song Festival "Gaudeamus" in the Mountain Park, the participants expressed their support for the Ukrainian people and performed the Ukrainian folk song "Červona kalina" and Raminta Naujanytė-Bjelle's work "Ateinu" created especially for the festival.
The motto of the 19th Student Song and Dance Festival of Estonia, Latvia and Lithuania was "Generation 3000!" It was thus emphasized that the participants in the festival represent the first generation of students born and raised in the third millennium AD. The festival, which has been held every four years in Lithuania, Latvia and Estonia, has been organized since 1954.
In 2022, the Gaudeamus Festival was organized by the Lithuanian National Cultural Center together with the Ministry of Education, Science and Sports and the Vilnius City Municipality.
Source: Organizers' press releases, photos of participants and organizers.