News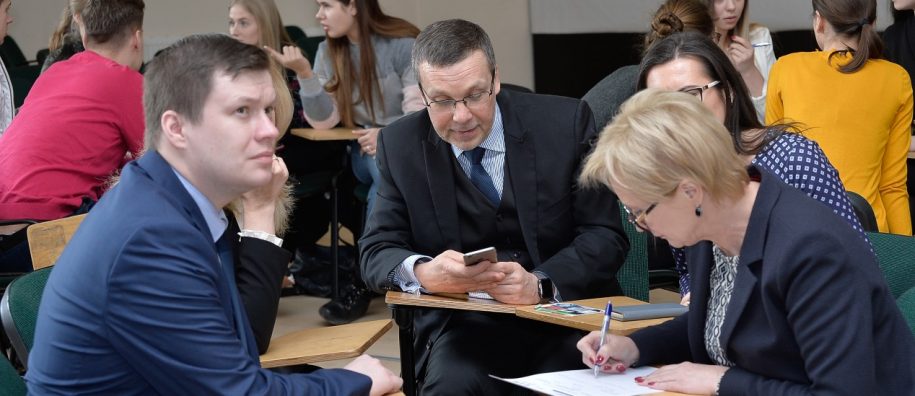 7 March, 2019
MRU's Academic Community Celebrated LT Statehood Day
Community
Events
Days ahead of the upcoming March 11th Lithuanian Statehood holiday, MRU's academic community March 7th gathered to take part in events on campus marking that day. It included an open lecture, "Historical Detective," presented by MRU Law Prof. Vytautas Sinkevičius.
During the lecture Prof. Sinkevičius discussed the signing of the March 11th Restoration Independence Act.
After the lecture, members of MRU's community had the possibility to test their historical knowledge taking part in a game regarding Lithuania's independence. The game included 15 teams, which were composed of university management, administration, lecturers and students. During the game, that had 2 parts, teams had to comment on photos and images and state how they are related.
There were 3 teams that made it to the finals. First place went to a Lecturers' Team, "Humanitarai" composed of Law Prof. Justinas Žilinskas, Law Assoc. Assoc. Prof. Katažyna Mikša, Prof. Virginijus Bitė, Law Assoc. Prof. Inga Daukšienė and Žaneta Garlienė.
The 2nd place went to the "Signatarės" Team composed of 2nd year students Lilija Ivaniukaitė, Deimantė Mateliūnaitė, Živilė Liubšytė, Aušrinė Ripkevičiūtė, and Karolina Kazimerevič.
MRU University staff, the team "Vėjas galvose," won third place and included Laura Lukoševičienė, Jurga Norkienė, Loreta Paukštytė, Greta Ramanauskaitė, and Tatjana Švec-Kurapkė.
The judging commission was composed of Lithuania's Constitutional Court Head Prof. Dr. Dainius Žalimas, MRU Law Prof. Vytautas Sinkevičius, MRU Assoc. Prof. Barbara Stankevič and MRU Assoc. Prof. Gintaras Šapoka.
Prizes to the winners were gifts of some of the event's participants: the Constitutional Court, the Seimas Ombudsmen's Office and the Children's Rights Protection Service.