News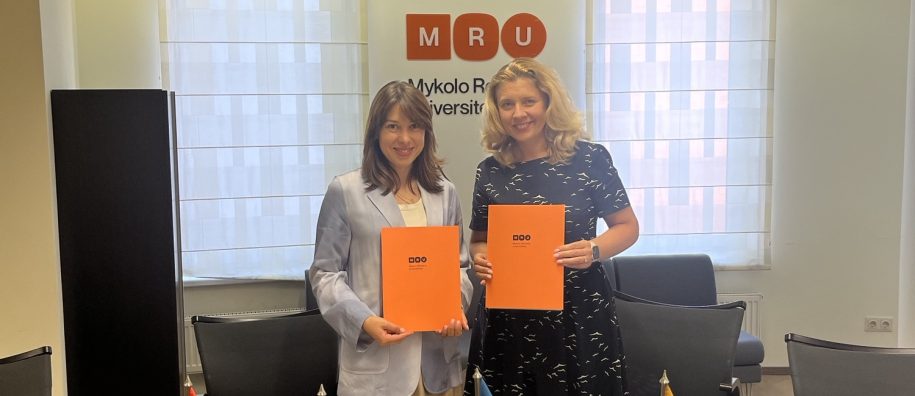 23 August, 2023
MRU to share mediation experience with partners in Ukraine
Law School
University
Events
A cooperation agreement has been signed between MRU and the Ukrainian branch of the European Association of Mediation Judges (GEMME): the Rector, Prof. Dr. Inga Žalėnienė, and the Executive Director of GEMME Ukraine, Alina Sierhieva, have confirmed the already implemented social partnership in the areas of development of mediation and the qualification and training of Ukrainian judges, notaries, attorneys at law, and other lawyers in the field of alternative dispute resolution.
"We are pleased to share MRU's experience in mediation with our partners in Ukraine. We hope that the cooperation between the academic community, the non-governmental sector and legal practitioners will contribute to the strengthening of the rule of law in Ukraine and to the successful integration into the European legal area," said the Rector, Prof. Dr. I. Žalėnienė.
MRU School of Law has been running the Mediation LL.M programme in English since 2022. More than 20 Ukrainian lawyers graduated in 2023 were provided with extensive theoretical and practical knowledge from top Lithuanian and foreign mediation experts. The developing social partnership will continue to ensure that Ukrainian lawyers have the opportunity to mediate under the most favorable conditions to develop their skills, gain practical experience and build international contacts. It is also envisaged to continue the cooperation in the future by organizing joint events, internships and other activities for the development of mediation and the improvement of mediators' competences.