News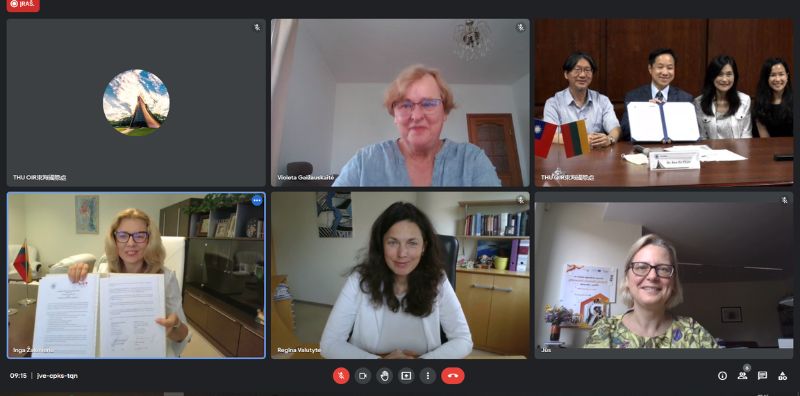 19 July, 2022
MRU & Taiwan's Tunghai University Launch New Partnership
Community
Events
Partnership
MRUen
July 19th, 2022, Mykolas Romeris University (MRU) and Tunghai University officially launched cooperation by signing a Memorandum of Understanding. Taiwan's Tunghai University is the third MRU partner in Taiwan.
MRU Rector Prof.  Inga Žalėnienė and Tunghai University President Prof. Dr. Kuo-en Chang signed the agreement. It was planned since 2022 when Taiwan-Lithuania Higher Education Online Forum was held in May 2022. It was organized by the Foundation for International Cooperation in Higher Education of Taiwan (FICHET) and the Lithuanian University Rectors' Conference (LURK).
"Lithuanians are looking towards the Taiwan with the great inspiration, as both our nations highly valued their freedom, democracy, rules based order, civil liberties, equity and  human dignity. This is a strong fundament for mutual beneficial cooperation, especially in the field of higher education. I am convinced that we can join our efforts for a common goal – to provide an education of the highest standard, opening a window to the sustainable future for our young generation and entire society," said Rector Prof. Žalėnienė.
Both universities share similar visions on sustainable development and university responsibilities, and have similar fields in business, law, and social science. They share the common willingness to faciliate bilateral relations between Lithuania and Taiwan. The signed agreement shall enable student and staff exchange, organization of scientific events and joint projects, sharing of best practices and innovations, while implementing sustainable development goals.
The meeting and round table discussion was also attended by Tunghai University Vice President dr. Jo-Shu Chang, Chief international office dr. Min-Hsun Liao, Deputy Chief I-Jung Grace Lu and MRU Vice-Rector for Academic Affairs Prof. Regina Valutytė, the Advisor to MRU Rector on International Relations and Communication Violeta Gaižauskaitė and MRU International Office Head Audra Dargytė Burokienė.