News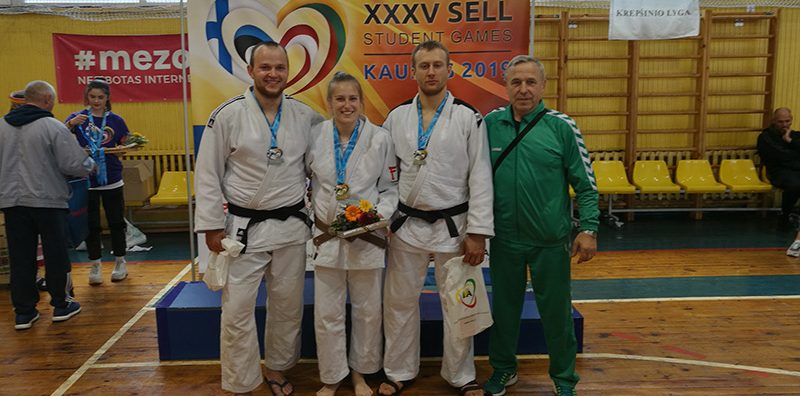 22 May, 2019
MRU Students Won Gold @SELL Student Games
Community
Events
May 17-19th, 2019, Mykolas Romeris University (MRU) students won 5 gold medals at the XXXV SELL Student Games held in Kaunas.
There were 1,400 student athletes from 46 universities representing 7 different countries taking part in the event.
MRU athletes took part in 5 different sports events and won 5 gold medals, 3 silver and 1 bronze.
Public Security Academy freshman Ema Šenauskaitė (63 kg) was crowned champion in the judo match. MRU graduate Mantas Klimašauskas (100 kg) and Economics and Business Faculty 3rd year student Žilvinas Lekavičius (+100 kg) won silver medals.
Greco-Roman wrestling and MRU Public Governance Faculty Master's Degree student Vilius Laurinaitis in the 130 kg category, overpowered all his opponents, and won a gold medal.
Powerlifting athletes, coached by P. Lazdauskas, did well. MRU Law School 3rd year student Laurynas Kripas (74 kg) and the School's 4th year student Jokūbas Stasiulis (120 kg) were the winners. Another student in the School, Mantas Baltrušaitis, won a bronze medal in the 105 kg category. Economics and Business Faculty Master's Degree student Karina Blaževič (57 kg) came in 4th and thus did not win a medal.
MRU's Chess Team, came in 2nd and won silver medals. The Team included MRU Humanities Institute 3rd year student A. Brazdžionis, graduate T. Vedrickas and Economics and Business Faculty Master's Degree student R. Velioniškis. They lost to the LSMU Team.
PhD student Šarūnas Banevičius won a gold medal in the Shot put event.
MRU coaches are the architects of these student athletes success. Coaches Gintaras Bukauskas, Petras Lazdauskas, A. Mečkovskis and Vaidas Sakalauskas were the driving force motivating the students.