News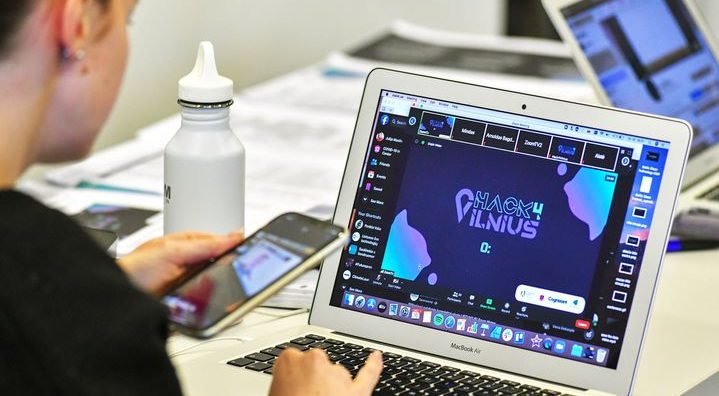 22 October, 2020
MRU Students Presented Innovative Ideas for Vilnius During Hack4Vilnius
Faculty of Human and Social Studies
Oct. 16-18th, MRU students presented their created projects during the traditional Vilnius city hackathon, "Hack4Vilnius," - a 50-hour idea generating marathon for innovative solutions, which would help resolve existing problems and make Vilnius cleaner, smarter and more suited for comfortable living for its inhabitants as well as visitors from abroad.
Communication Institute Communication and Digital Marketing studies 2nd year students ((Lineta Ragažinskaitė, Rugilė Sendžikaitė, Laurynas Vaitkūnas, Gabrielė Vindžigelskytė, Viktorija Barkauskytė, Karina Ivanova, Dominykas Jurša, Laura Lideikytė), undertaking a Complex project studies subject (Lecturer Giedrė Grimalauskienė) task, presented 2 newly-created projects.
The first idea, "CarLess" programme for Vilnius city and district inhabitants who would want to offer a ride to fellow residents according to a point-based system. This would help to reduce traffic congestion in the city of Vilnius and allow to quickly and comfortably to reach a needed place. At the same time, using "linkedIn" and "Tinder" it would be possible to offer a ride to a person similiar in age and education with similiar hobbies as well. "CarLess" would allow to travel around Vilnius and optimize transport in the city. Only adult-age persons could use the programme becoming drivers or fellow travellers. This is very useful as it could reduce up to 5% traffic congestion in Vilnius as well as reduce gas emissions. Every user would save time and money and this would all encourage civic-mindedness.
The 2nd idea, "Livepark"would help resolve parking problems during peak travel times, when it is not possible to find a parking space within Vilnius city limits. It would be possilble to reserve a space in a parking lot in Vilnius and to see in real time how many free parking spaces there are. This would be especially helpful during public events in the city of Vilnius. Businesses would benefit because clients pay for the service ahead of time and users save time. This would help to reduce the parking problems in the city, add money to budget coffers and ensure comfort for city dwellers.
There were more than 250 participants that took part in the ëvent. They presented 40 ideas for a more smart city of Vilnius. Some of the projects will be successfully implemented not only in Vilnius, but also internationally.