News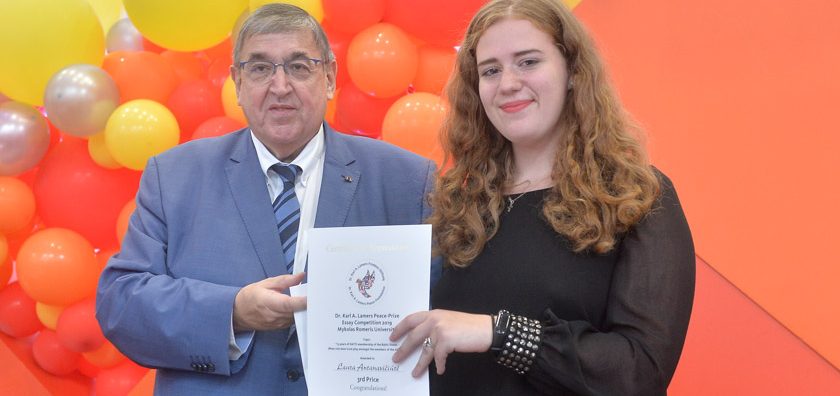 2 September, 2019
MRU Students Awarded Dr. Lamers Peace Prize
Law School
Community
Events
Sept. 2nd, 2019, three students of Mykolas Romeris University (MRU) were awarded Dr. Lamers Peace Prizes during the official opening of the MRU academic year ceremony.
Prof. h. c. Dr. Karl A. Lamers, a long-time member of the German Bundestag and the former President of NATO Parliamentary Assembly, personally handed Lamers Peace Prize certificates to the three winners.
European and International Business Law MA student Ana Šurpickaja won the essay writing competition to receive €1000 1st prize. International Law MA student Kipras Adomaitis was second to get a €600 prize.
International and Intercultural Communication BA student Laura Antanavičiūtė came in third and was awarded a €400 prize.
"For a new generation of young people, who have no experience of war, it is very important to think about peace and freedom and not to take it for granted," said Prof. h. c. Dr. Karl A. Lamers in his congratulatory speech during the ceremony. "This is the understanding behind the Peace Prize competition," he added.
Prof. h. c. Dr. Karl Lamers is also an honorary doctor and honorary professor of MRU. Celebrating Prof. h. c. Dr. Karl A. Lamers' commitment to security issues and work in the security area, the Peace Prize Competition has been launched bearing his name. Prizes for the winners are provided by the Dr Karl A. Lamers Peace Foundation, which was established this year and Prof. h. c. Dr. Karl A. Lamers is a major sponsor of the Foundation.
Rector Prof. Dr. Inga Žalėnienė said MRU is greatly privileged with the long-time friendship of Prof. h. c. Dr. Karl A. Lamers.
"I am always deeply impressed with the sincerity of his commitment to Lithuania and MRU, and our faculty and students are very proud that security policy maker of global acclaim, Prof. Dr. Karl A. Lamers, is so loyal to our community", the Rector said.
In total 33 MRU and international students took part in the competition to write an essay on the topic: 15 Years of NATO Membership of the Baltic States - What Role Does Trust Play Amongst the Members of the Alliance? 
Apart from the three winners, 7 more MRU and international students have won shared joint 4th-10th place. In alphabetic order they are: Gunar Ehrke, Erasmus exchange student; Linas Ikanevičius, Public Policy and Management BA student; Agnė Juodžentytė, International Law MA student; Vilius Lapis, Law BA student; Pauline Lapointe, EU Law and Management MA student; Yuliya Pochodun, International Law MA student; Laura Ruplėnaitė, BA Law and Penitentiary Activity BA student.
MRU is honored to be the first such Peace Prize Competition recipient of the Dr. Karl A. Lamers Peace Foundation.
On May 28th, 2019, Prof. h. c. Dr. Karl Lamers visited MRU as a key-note speaker in the 4th annual debate on security issues "Dr. Lamers NATO Hearings." 
info provided by Assoc. Prof. Dr. Virgis Valentinavičius
Coordinator of Dr Lamers Peace Price Essay Contest
Dean of MRU's Institute of Communication