News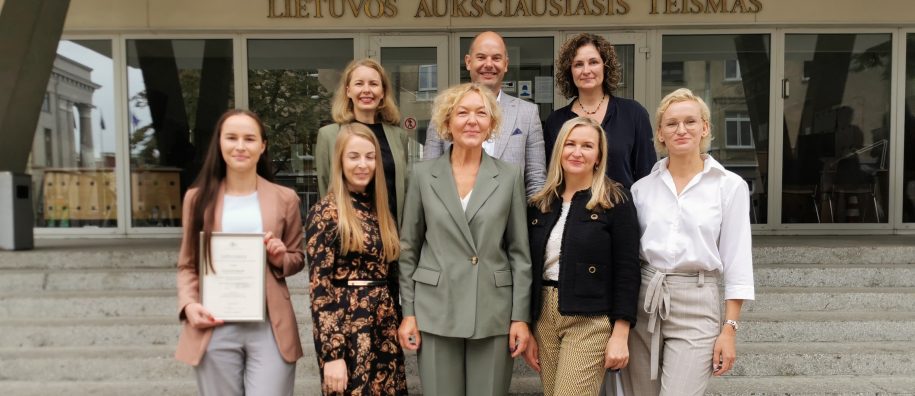 31 August, 2021
MRU Student Klaudija Kačerginaitė – Winner of Best Law Master's Thesis
Studies
Community
Law School
University
MRU Law student Klaudija Kačerginaitė's Master's thesis was selected as the best and won first place in the annual 2021 thesis competition held by Lithuania's Supreme Court. The thesis, "Qualification of Incitement to Hatred in International and National Practice" (Supervisor Assoc. Prof. Laurynas Biekša) was recognized as the best this year.
In addition, Jolanta Mažulytė was recognized for her work and unique presentation, "Legal Aspects of Payment for Additional Work Under Contract" (Supervisor Prof. Vaidas Jurkevičius).
 MRU Law School Dean Prof. Lyra Jakulevičienė, congratulating students, emphasized the importance of the competition. She said cooperation of Lithuania's Supreme Court with universities in this way is extremely useful providing practitioners with new insights and encouraging universities to respond to today's most pressing legal challenges by involving young people in their research. She encouraged contestants to be ambassadors for knowledge and new attitudes and to further develop relevant topics in the scientific or practical work of lawyers. The Dean also called for greater responsibility and even a duty to speak about the rule of law, human rights and human dignity in light of today's context. She expressed the expectation that authors of the research, more than others currently analyzing topics of particular relevance to our state and society today, will disseminate more widely an impartial and science-based information to the public thus contributing to a better understanding and solution to these challenges.
There were 5 Master's Degree students that participated in the annual 2021 competition including Kačerginaitė, Mažulytė, Dovydas Kelecko, Aušra Girtaitė-Mikalajūnienė and Ingrida Nausėdaitė.
The evaluation committee selecting the best thesis was composed of representatives of the university and members of the Supreme Court of Lithuania.