News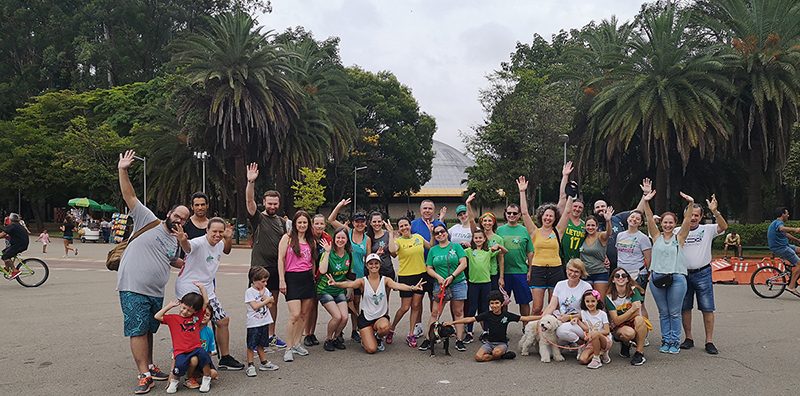 17 December, 2020
MRU Student Interned at Emigre School in Sunny Brazil
Faculty of Human and Social Studies
Mykolas Romeris University (MRU) Communication Institute Master's Degree student Lina Matiukaitė recently returned from an internship in Sao Paulo, Brazil, She taught children of Lithuanian descent at the Lithuanian emigre school, "Vilnis."
The Communication and Creative Technologies student managed to spend time in sunny Brazil, when it was winter in Lithuania.
She was able to undertake the internship when she found an invitation in the Education Exchanges Fund programme and submitted an application to participate, which was later approved.
Matiukaitė could choose from a wide array of emigre schools located worldwide, but her desire was to spend time in Brazil, an exotic far-off country and also to see for herself Rio de Janeiro, the site of the famous Mardi Gras carnival.
"When I saw the Education Exchange Fund'sinvitation to participate and intern at the school, I decided on Brazil," she said. One of the factors was the friendly, warm letter from the School Director Rūta Meškauskienė, which she read.
The Fund allocated a scholarship and Matiukaite was on her way to Brazil.
Cultural differences were most surprising, but she adjusted quickly especially due to the emigre school's representatives, who welcomed her with open arms.
The weather was the first surprise, when I landed in Brazil, she said. It was so warm. The weather here is perfect. The sun forces a smile out of you.
She was warned about being careful in the streets and not to show that she is a foreigner. The crime rate in Brazil is high, so it is necessary to be on the alert. At first, this scares many arriving foreigners, but after a while it is no longer scary.
"It appears that everything in Brazil is magnified several times - smiles, food portions, plants, trees, and... bugs," she noted.
There are so many interesting, friendly people here who are willing to help and they continue to smile, despite that they see I don't understand their language.
PUPILS ATTEND "VILNIS" SCHOOL in SAO PAULO
Offspring of Lithuanian emigres attend the "Vilnis" school whose grandparents or great grandparents were Lithuanian. The students vary in age from 4 to 70 years old. Currently there are 31 pupils there.
When I started teaching Lithuanian, I understood what a unique and difficult language it truly is.
"It is most difficult for pupils to understand that words decline in Lithuanian. But all of the students are so motivated to study and learn," she said.
Aside from teaching at the School, Matiukaitė 3 days a week also interned at the Lithuanian Consulate Office in Sao Paulo. 
"I had the opportunity to become more closely acquainted with consular activities. I work at the office and use my abilities in the area of diplomatic communication. This included work administering social networks in Lithuanian and Portuguese.
"I am happy that Brazil was not just a tourist destination stop for me. I had plenty of time to become more closely acquainted with the country and its culture. Brazil is an interesting country especially due to the fact that there are many Lithuanian emigres or their offspring who live here.
Despite the ongoing pandemic, Matiukaitė encourages others to take interest in student exchanges or internships abroad.
"Most important is not be afraid and to take interest in offered possibilities," she said.
When I was in Brazil, I discovered the warmth and sincerity of the people and their Lithuania. That was and is the most of value and something which I treasure and brought back with me, said Matiukaitė.