News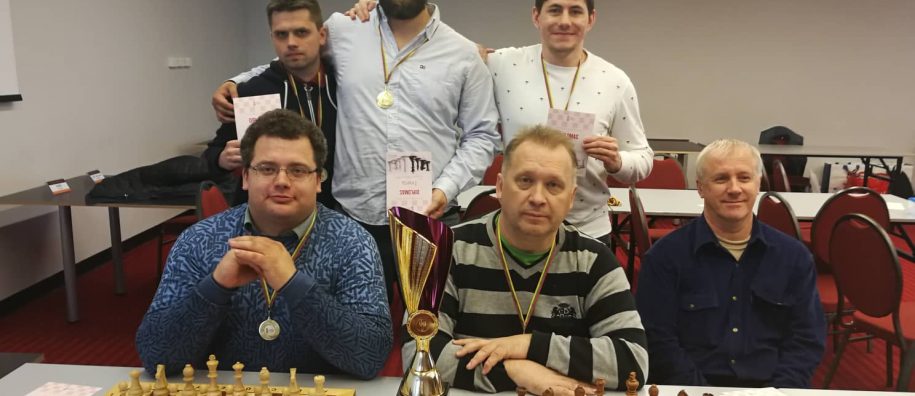 29 April, 2019
"MRU-ROSK Consulting" Team Wins LT Chess League Tournament
Community
Events
April 28th, 2019, making history, the "MRU-ROSK Consulting" Team won Lithuania's Chess League (LŠL) Tournament held in Kaunas. It was held in 3 stages with 20 teams competing for medals and the right to play in the European Chess Cup Championships in Montenegro.
The MRU-ROSK Consulting Team won all 7 matches and for the first time in history were declared the winners. The Tournament concluded in Kaunas April 28th, 2019 and team coach was International Chess Master Vaidas Sakalauskas.
MRU graduate, chess player Tautvydas Vedrickas and MRU student Andrius Brazdžionis collected 6 points each of 7 possible. International Master Tomas Laurušas 5/6, International Master Oleg Krivonosov (Latvia) 4,5/5, MRU alumnus Vaidas Šetkauskas 3/3, MRU Chess Team Coach Vaidas Sakalauskas 3/5, MRU's Robertas Velioniškis 2/2.
"This is the 7th season that we have participated in the tournament," said coach Sakalauskas not hiding his pride in the historical win.
"Often we came in 2nd or 3rd place, but we never won. Finally, we succeeded. We won! Team members played very well. We not only won all 7 matches, but also individually didn't lose any (winning 24 and 11 ending in a tie). This is a League record, which is not possible to improve on!" he said.
The MRU-ROSK Consulting Team won the right to participate in the European Chess Cup Championships in Budva, Montenegro.
"I hope that we will be able to find financial support and to play well in the European Cup," he added.
The Women's Team in 2012 represented Lithuania in the European Cup and placed 6th.