News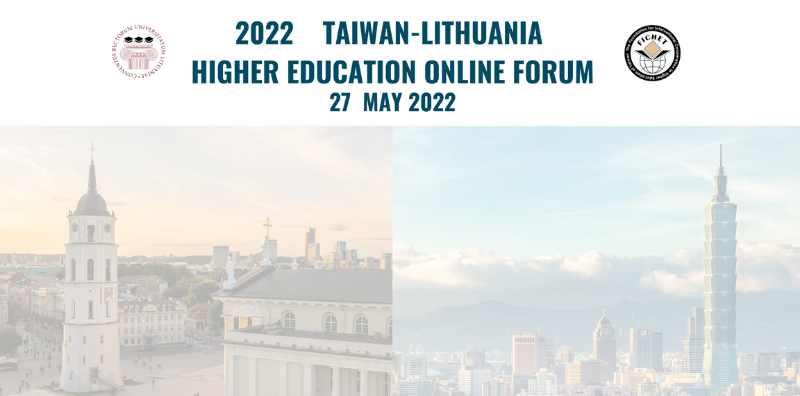 27 May, 2022
MRU Rector: Universities Help Implement Sustainable Development Goals
Events
Conference
May 27th, 2022, at the Lithuanian-Taiwan Higher Education Forum, Mykolas Romeris University (MRU) Rector Prof. Dr. Inga Žalėnienė shared insights and good practice on how higher education contributes to implementation of sustainable development goals. The remote Forum, about priorities and opportunities for cooperation between Taiwanese and Lithuanian universities, was organized by the Lithuanian University Rector's Conference and the Foundation for International Cooperation in Higher Education of Taiwan (FICHET).
"Universities make important contributions to achieving the goals of sustainable development by conducting studies and research, transforming university academic campuses into sustainable ones, implementing high ecological standards in daily activities, and promoting awareness and citizenship among students, employees and society as a whole," said Rector Prof. Žalėnienė.
Summarizing the priorities and achievements of Lithuanian universities in the field of sustainable development, Rector Prof. Žalėnienė emphasized the importance of international cooperation in ensuring the sustainable development of society.
The Rector of MRU invited representatives of the Taiwanese academic community to create a common platform where universities could find partners, create international teams of researchers to address relevant issues of sustainable development, develop interdisciplinary studies, and exchange good practices.
The world's most prestigious university rating agency, "Times Higher Education," in 2022 announced higher education institutions with the greatest impact on sustainable development, successfully implementing the United Nations Sustainable Development Goals (SDGs). For the first time, among the world's most influential universities in this field, MRU was also highly ranked in "THE Impact Rankings 2022."
The University was recognized in areas such as quality education, sustainable cities and communities, peace and justice, strong institutions, and partnerships.
MRU's highest ratings were for impact on building peace, justice and strong institutions. The University ranks among the world's 301-400 most influential universities in this field. Expert services for regional and national authorities (drafting of legislation, participation in working groups, consultations), studies, in-service training and educational activities for policy makers and public administration staff, cooperation with public authorities in the field of research were also evaluated. Secure, neutral and democracy platforms were initiated along with spaces for public debate between politicians, public authorities and various stakeholders on issues of public concern.
 In 2021 MRU was the only university in Lithuania to be included in the international "UI GreenMetric" ratings for sustainable development and ranked 197th among the most sustainable universities in the European region.