News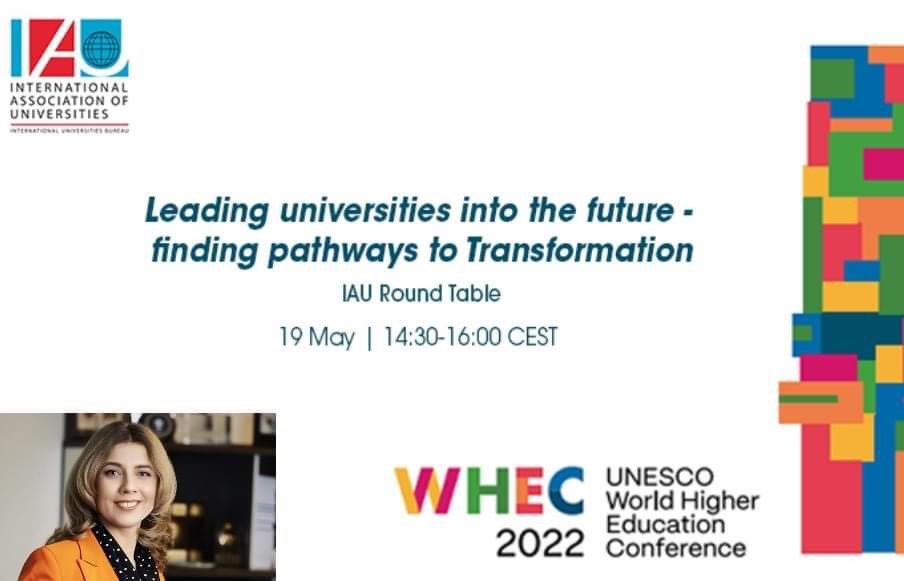 20 May, 2022
MRU Rector at the World Education Leaders' Forum on the Importance of Open Access to Scientific Knowledge and the Mission of Humanistic Education
The Rector of Mykolas Romeris University (MRU), Prof. Dr. Inga Žalėnienė, has raised main issues of open access to research and knowledge exchange at the UNESCO World Conference on Higher Education (UNESCO WHEC 22). The aim of the conference, which was held in Barcelona from May 18th-20th, was to develop new ideas and practices to enhance the role of universities in ensuring sustainable human development in a context of rapid global social, environmental and technological change.
The UNESCO Futures of Higher Education Report, published on the eve of the conference, emphasised that universities must not only adapt to global challenges and social change, but also be active agents of change.
The roundtable discussion on the future of universities, chaired by Pam Fredman, President of the IAU (International Association of Universities), brought together leaders from universities in North America, Asia and the Pacific, Africa, Latin America and Europe to discuss the issues of knowledge and research exchange, assessment of the quality of higher education and its relevance to social development.
In her presentation, Prof. Dr. I. Žalėnienė, Rector of MRU, who represented the European region, emphasized that the academic community needs to respond much more quickly to the challenges of climate and technological change, uneven global development, and the erosion of democratic values and governance, and to take the responsibility to make new and creative choices and to share academic achievements together.
"Global challenges require a global response", emphasized MRU Rector I. Žalėnienė, calling on international organizations, including UNESCO and the IAU, to promote cooperation in the social sciences and humanities and to develop instruments to mobilize the necessary resources globally.
The Rector of MRU pointed to the rapid development of the COVID-19 vaccine, which has helped to save many lives, as a good example of global scientific cooperation and sharing of scientific data. According to the Rector, the UNESCO Recommendation on Open Science helps to "unlock" access to science, data and knowledge, including educational resources, on a global scale.
"This is a major step forward because open access to knowledge and information is a common good and a human right, inseparable from the right to education for all, encompassing formal and non-formal education and lifelong learning," said MRU Rector Prof. Dr. Žalėnienė.
Drawing attention to the limitations of commercial criteria for evaluating science, the Rector of MRU emphasised that the new UNESCO Futures of Education Report was in time to bring forward the principles of the humanistic socio-cultural paradigm of education, which before the pandemic had been overshadowed by the paradigm of economic neoliberalism.
According to Ms Žalėnienė, the new social contract proposed by UNESCO expresses the fundamental view of education as a common public good and offers hope for a change in government attitudes and a new understanding of the mission of higher education and its importance for states and societies.
Video recordings of the conference can be found here.
Speech by Prof. Dr. Inga Žalėnienė, Rector of MRU:
"Universities have always been places where knowledge is created, preserved and  passed on to the new generation of students, scholars, surrounding communities and society as a whole.
But today, the humanity is undergoing major existential challenges of climate change, armed conflicts, health crisis, rapid technological changes, global disparities, erosion of democratic values, rule of law and democracy. In the face of these challenges worldwide academic communities have to react much faster than before and take responsibility for the urgent unprecedented actions, create transformative solutions, freely sharing the scientific advancement globally.
The global scientific response to Covid-19 pandemic has showed us the enormous potential and impact of open science, with unprecedented amounts of sharing of ideas, research content and data within/beyond the scientific communities and across different sectors globally.
It was proved once again that knowledge  could make a real impact to the society, decision makers, when you encourage and enable free knowledge circulation and open access to research results.  
One of the best examples -  the collaboration of researchers   for fast   production   of COVID-19 vaccines, which helped to save lives during the pandemic.
Also Open Online Educational Resources, which enabled to prolong learning process online to enormous amount of schools and universities worldwide.
Digitalization, Artificial Intelligence enabled processes have fastened in all the sectors as never before.
During those two years we got enough proof that Open access to research results and data, free knowledge circulation in a global space are necessary tools for educators and researchers to go further, to step down from current commercial publishing systems, research assessment, reward systems, market oriented ratings and rankings, which are posing tensions, unfairness and exclusivity, rather than accessibility and inclusiveness.
UNESCO recommendation on Open Science created a common understanding of what it implies to and raised a global commitment to unlock access to science, data and knowledge, including Open Educational Resources and Citizen Science. It is a huge step forward in understanding access to knowledge and information as common public good and human right, inseparable from the right to education for all, including flexible formal and unformal learning paths, life long learning activities.
It is no doubt that the open science movement gradually will change traditional closed science systems into more inclusive, accessible, efficient and transparent, but it will take time, changing of science dissemination cultures not only at universities, but also in societies. It will require major national, regional, global policy level reforms and financial support.
Academic communities worldwide are welcoming and supporting Open Science movement, for example in Europe we have excellent regional  and national initiatives (such as, European Open Science Cloud initiative, rise of institutional, national open access repositories, free access to publicly funded research projects results and much more to add).
But at the same time in parallel to the mentioned positive changes, Higher education institutions at the same jurisdictions are forced to adjust to the market oriented indicators, as they are highly dependent on their governments in a struggle for public resources, which fully depends on the success rate at external institutional evaluations, global  rankings results, mainly counting quantitative data extracted from several monopolistic commercial publishing platforms, which, unfortunately, sometimes have nothing in common with a real impact to communities and society.
In such a context, the new UNESCO Futures of Education report is timely and promising to return back and go further with the principles of humanistic socio-cultural education paradigm, which in pre-pandemic period unfortunately in many countries was mainly dominated by economic neoliberal paradigm. The new social contract, which is proposed by UNESCO, returns us back to the fundamental understanding of education as a common public good, fundamental human right and gives hope that it will initiate certain mind shifts  of our states, governments about HE sector's broadening missions, it's relevance and importance to the societies.
Global challenges need a global response. I hope  that international  organizations, such as UNESCO, IAU and other global education networks certainly have a fundamental role in consolidating leadership for promoting global  cooperation in education and sciences, for the implementation of a new social contract together with worldwide academic communities and other stakeholders creating new instruments, open collaborative platforms to synergize resources globally. That will certainly help us build more peaceful, just and sustainable futures for all."