News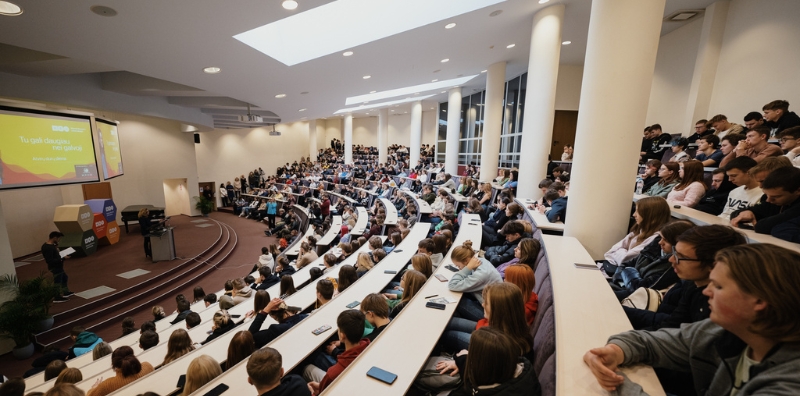 18 November, 2022
MRU's Open House – "You Can Do More Than You Think" held Nov. 17th
Events
Visits
Nov. 17th, students and teachers gathered at Mykolas Romeris University (MRU), for the MRU Open House event, "You can do more than you think".
In non-traditional activities, the participants got to know the University up close, talked with teachers, students, alumni, friends of MRU, and also heard first-hand accounts of study programmes, admission requirements and received answers to their questions.
Several different event programs were offered to students and teachers that attracted public interest. One of them was a programme for students, and the other was a programme for teachers themselves.
Schoolchildren's Programme Included Interactive Activities
"We are opening the doors of the largest specialized university of social orientation to everyone who wants to gain knowledge, prepare for a successful professional career and a quality life. Educators and psychologists, specialists in law, business, digital economy, communication and cyber security, state management and many other extremely important fields, without which no advanced society can function, study and improve their qualifications at MRU. I hope that today's events will help you make a better decision on how to better reveal your talents and abilities", said MRU Rector Prof. Dr. Inga Zalėnienė.
At the beginning of the event, pupils were offered interactive activities, which began with presentations. MRU Law School's adviser to the Dean Akvilė Alauskaitė, Communication and Marketing Centre Sr. Manager Sandra Ščerbo and MRU National Admissions Head Saulius Bugailiškis presented the most useful steps for planning for the future and admissions requirements for entering MRU.